N-net 10 / 100M Media Converter Dual Fiber SC SM

NT-1100D, Media Converter, kan datatransmissie implementeren tussen elektrische signalen met twisted-pair en optische signalen die de twee soorten netwerkverbindingsmedia zijn. Fiber Converter kan de transmissieafstand uitbreiden tot 2 kilometer (multimodus) of 120 kilometer (enkele modus). Als gevolg van de unieke functie van Small Fibre Media Converter als verbindingsfoutmelding tussen de elektrische poort en de optische poort, kan deze de mediaconvertor vervangen door netwerkbeheer om de systeemkosten aanzienlijk te verlagen. Het gebruik van Fibre to Ethernet Media Converter is een voordelige oplossing om op basis van de huidige status een transmissie over lange afstand te bereiken.
10 / 100M Media Converter-functies
1. 10 / 100Mbps automatisch gedetecteerd, waardoor netwerkupgrade mogelijk is.
2. Ingebouwde efficiënte schakelkern om flow control te implementeren en broadcast-pakketten te verminderen.
3. Full-duplex en half-duplex automatisch gedetecteerd.
4. Ondersteunt auto-sense van MDI / MDI-X, vergemakkelijkt inbedrijfstelling en installatie van het systeem.
5. Ondersteuning van half / full-duplex van FX.
6. Ondersteunt 10 / 100Mbps store-and-forward en 100Mbps cut-through transmissie.
7. Ondersteuning van de overdracht van 100Base-FX of STM-1, compatibel met andere apparaten.
8. Ondersteunt low-time vertragingstransmissie.
9. Ondersteuning van de overdracht van extra lange pakketten tot 1600 bytes.
10. Extreem laag stroomverbruik (minder dan 2 W), betrouwbare en stabiele prestaties.
11. Opties in single mode dual fiber of Multi-mode dual fiber.
Ethernet Converter-toepassing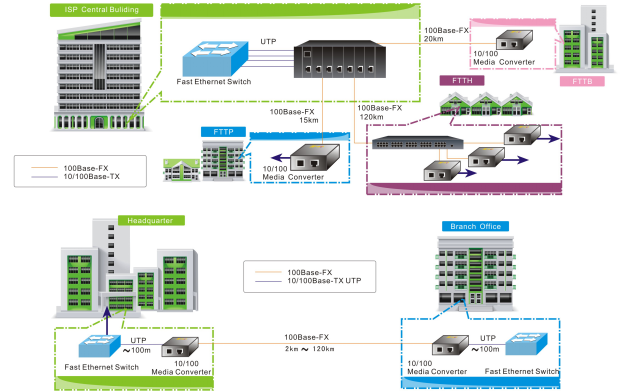 Snelle Media Converter bestelinformatie
| | |
| --- | --- |
| NT-1100I | 10/100Base-T to 100Base-F, multi-mode, 2km, SC, standalone, internal power adaptor |
| NT-1100SI-25 | 10/100Base-T to 100Base-F, single mode, 25km, SC, standalone, internal power adaptor |
| NT-1100SI-40 | 10/100Base-T to 100Base-F, single mode, 40km, SC, standalone, internal power adaptor |
| NT-1100SI-60 | 10/100Base-T to 100Base-F, single mode, 60km, SC, standalone, internal power adaptor |
| NT-1100SI-80 | 10/100Base-T to 100Base-F, single mode, 80km, SC, standalone, internal power adaptor |
| NT-1100SI-100 | 10/100Base-T to 100Base-F, single mode, 100km, SC, standalone, internal power adaptor |
| NT-1100SI-120 | 10/100Base-T to 100Base-F, single mode, 120km, SC, standalone, internal power adaptor |
Product Categorie : Media Converter > Fast Media Converter