N-net 10 / 100M interne glasvezelconverter
NT-S1100D Media Converter is een nieuw product dat wordt gebruikt voor optische transmissie via high-speed Ethernet. Fiber Converter kan schakelen tussen twisted pair en optisch en relais over 10/100 Base-TX en 100 Base-Fx netwerksegmenten, die voldoen aan lange-afstands-, hoge- snelheids- en high-broadband behoeften van snelle Ethernet-werkgroepgebruikers, waardoor een hoge snelheidsinterconnectie op afstand voor maximaal 120 km relaisvrij computergegevensnetwerk. Met constante en betrouwbare prestaties, ontwerp in overeenstemming met Ethernet-standaard en bliksembeveiliging, is Fiber To Ethernet Media Converter in het bijzonder van toepassing op een breed scala aan velden die een verscheidenheid aan breedbanddatanetwerken en een zeer betrouwbare datatransmissie of een specifiek IP-gegevensoverdrachtsnetwerk vereisen, zoals telecommunicatie, kabeltelevisie, spoorwegen, defensie, financiën, effecten, douane, burgerluchtvaart, scheepvaart, elektriciteitsbeheer, waterbehoud en olieveld enz., en 10 / 100M Media Converter is een ideaal type faciliteit om een ​​breedband campusnetwerk te bouwen.
Ethernet Converter Features
10/100 Mbps automatisch gedetecteerd, waardoor netwerkupgrade mogelijk is
Ingebouwde, efficiënte schakelkern om stroomregeling te implementeren en broadcast-pakketten te reduceren
Full-duplex en half-duplex automatisch gedetecteerd
Ondersteuning van automatische detectie van MDI / MDI-X, waardoor de inbedrijfstelling en installatie van het systeem wordt vergemakkelijkt
Ondersteuning van half / full-duplex van FX.
Ondersteuning van 10 / 100Mbps store-and-forward en 100Mbps cut-through-transmissie.
Ondersteuning van de overdracht van 100Base-Fx of STM-1, compatibel met andere apparaten
Ondersteunt lagervertraging
Ondersteuning van de verzending van extra lange pakketten tot 1600 bytes
Extreem laag stroomverbruik (minder dan 2W), betrouwbare en stabiele prestaties
Opties in dual-fiber met enkele modus of dual-mode dubbele vezel.
Small Fiber Media Converter- specificaties
Parameter

Specifications

Access mode

10/100Mbps

Standard

IEEE802.3 10Base-T Ethernet, IEEE802.3u,100Base-TX/FX Fast Ethernet, IEEE802.3x Flow Control

Wavelength

850nm/1310nm/1550nm

Transmission distance

Dual-fiber multi-mode: 2 km;

Dual-fiber single mode: 20/40/60/80/100/120 km;

Category-5 twisted pairs: 100m

Port

One RJ45 port:

Connecting STP/UTP category-5 twisted pairs, EIA568A/B

One optical port:

Multi-mode Dual-fiber: SC or ST (50, 62.5/125μm)

Single mode Dual-fiber: SC or FC (9/125μm)

Conversion means

Store and Forward mode or Cut-Through mode

Buffer space

Built in 128Kb RAM for data buffer

Flow control

Full duplex: flow control;

Half duplex: back pressure

BER

<19-9

MTBF

100,000 hours

LED indicator

POER (power supply), FX LINK/ACT (optical link action)

FDX (full duplex), TX LINK/ACT (TP cable link/action)

TX 100 (TP cable rate 100M), FX100(fiber cable rate 100M)

Power supply

Internal: AC90~264V/DC100~380V input

Power consumption

<40W (the chassis at full load), <2W

Operating temperature

-10~55ºC

Operating humidity

5%~90%

Maintaining temperature

-40~70ºC

Maintaining humidity

5% ~ 90% non-condensing

Dimensions

140 mm (W)×110 mm (D)×30 mm (H) (internal power supply)
Snelle Media Converter- toepassing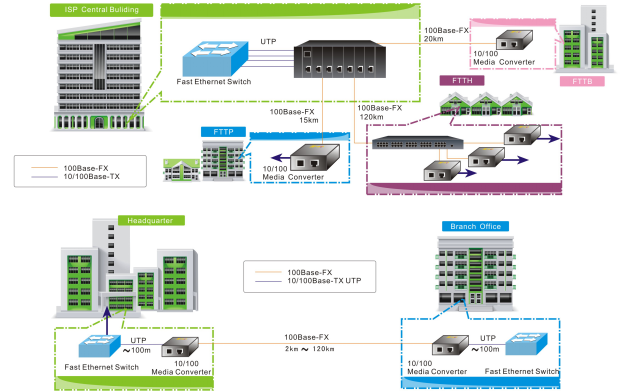 Glasvezel naar ethernet converter Bestelinformatie
| | |
| --- | --- |
| NT-1100D | 10/100Base-T to 100Base-F, multi-mode, 2km, SC, standalone, internal power adaptor |
| NT-1100SD-25 | 10/100Base-T to 100Base-F, single mode, 25km, SC, standalone, internal power adaptor |
| NT-1100SD-40 | 10/100Base-T to 100Base-F, single mode, 40km, SC, standalone, internal power adaptor |
| NT-1100SD-60 | 10/100Base-T to 100Base-F, single mode, 60km, SC, standalone, internal power adaptor |
| NT-1100SD-80 | 10/100Base-T to 100Base-F, single mode, 80km, SC, standalone, internal power adaptor |
| NT-1100SD-100 | 10/100Base-T to 100Base-F, single mode, 100km, SC, standalone, internal power adaptor |
| NT-S1100D-120 | 10/100Base-T to 100Base-F, single mode, 120km, SC, standalone, internal power adaptor |
Product Categorie : Media Converter > Fast Media Converter