N-net 10 / 100M interne vezelmedia-omzetter
NT-S1100D Media Converter is een nieuw product dat wordt gebruikt voor optische transmissie via high-speed Ethernet. Fibre Converter is in staat om te schakelen tussen twisted pair en optisch en relais over 10/100 Base-TX en 100 Base-Fx netwerksegmenten, waarmee wordt voldaan aan de behoeften van gebruikers van langeafstands-, hogesnelheids- en breedbandsnelle Ethernet-werkgroepen, waardoor hoge -snelle interconnectie op afstand voor een relaisvrij computernetwerk tot 120 km. Met stabiele en betrouwbare prestaties, ontwerp in overeenstemming met de Ethernet-standaard en bliksembeveiliging, is Fiber To Ethernet Media Converter met name toepasbaar op een breed scala van velden die een breedband-datanetwerk en een zeer betrouwbare datatransmissie of een speciaal IP-datatransmissienetwerk vereisen, zoals telecommunicatie, kabeltelevisie, spoorwegen, militairen, financiën en effecten, douane, burgerluchtvaart, scheepvaart, energie, waterbesparing en olieveld enz., en 10 / 100M Media Converter is een ideaal type faciliteit om een ​​breedband campusnetwerk op te bouwen.
Kenmerken Ethernet Converter
10 / 100Mbps automatisch gedetecteerd, waardoor netwerkupgrade mogelijk is.

Ingebouwde efficiënte schakelkern om flow control te implementeren en uitzendpakketten te verminderen.

Full-duplex en half-duplex automatisch gedetecteerd.

Ondersteunt auto-sense van MDI / MDI-X, vergemakkelijkt inbedrijfstelling en installatie van het systeem.

Ondersteunt half / full-duplex van FX.

Ondersteunt 10 / 100Mbps store-and-forward en 100Mbps cut-through transmissie.

Ondersteuning van de overdracht van 100Base-Fx of STM-1, compatibel met andere apparaten.

Ondersteunt low-time vertragingstransmissie.

Ondersteuning van de overdracht van extra lange pakketten tot 1600 bytes.

Extreem laag stroomverbruik (minder dan 2 W), betrouwbare en stabiele prestaties.

Opties in single mode dual fiber of multi-mode dual fiber.
Specificaties voor kleine glasvezelmedia
Parameter

Specifications

Access mode

10/100Mbps

Standard

IEEE802.3 10Base-T Ethernet, IEEE802.3u,100Base-TX/FX Fast Ethernet, IEEE802.3x Flow Control

Wavelength

850nm/1310nm/1550nm

Transmission distance

Dual-fiber multi-mode: 2 km;

Dual-fiber single mode: 20/40/60/80/100/120 km;

Category-5 twisted pairs: 100m

Port

One RJ45 port:

Connecting STP/UTP category-5 twisted pairs, EIA568A/B

One optical port:

Multi-mode Dual-fiber: SC or ST (50, 62.5/125μm)

Single mode Dual-fiber: SC or FC (9/125μm)

Conversion means

Store and Forward mode or Cut-Through mode

Buffer space

Built in 128Kb RAM for data buffer

Flow control

Full duplex: flow control;

Half duplex: back pressure

BER

<19-9

MTBF

100,000 hours

LED indicator

POER (power supply), FX LINK/ACT (optical link action)

FDX (full duplex), TX LINK/ACT (TP cable link/action)

TX 100 (TP cable rate 100M), FX100(fiber cable rate 100M)

Power supply

Internal: AC90~264V/DC100~380V input

Power consumption

<40W (the chassis at full load), <2W

Operating temperature

-10~55ºC

Operating humidity

5%~90%

Maintaining temperature

-40~70ºC

Maintaining humidity

5% ~ 90% non-condensing

Dimensions

140 mm (W)×110 mm (D)×30 mm (H) (internal power supply)
Snelle Media Converter- toepassing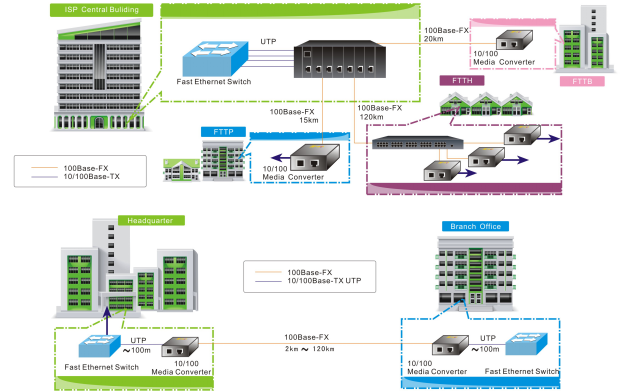 Fiber to Ethernet Converter Bestelinformatie
| | |
| --- | --- |
| NT-1100D | 10/100Base-T to 100Base-F, multi-mode, 2km, SC, standalone, internal power adaptor |
| NT-1100SD-25 | 10/100Base-T to 100Base-F, single mode, 25km, SC, standalone, internal power adaptor |
| NT-1100SD-40 | 10/100Base-T to 100Base-F, single mode, 40km, SC, standalone, internal power adaptor |
| NT-1100SD-60 | 10/100Base-T to 100Base-F, single mode, 60km, SC, standalone, internal power adaptor |
| NT-1100SD-80 | 10/100Base-T to 100Base-F, single mode, 80km, SC, standalone, internal power adaptor |
| NT-1100SD-100 | 10/100Base-T to 100Base-F, single mode, 100km, SC, standalone, internal power adaptor |
| NT-S1100D-120 | 10/100Base-T to 100Base-F, single mode, 120km, SC, standalone, internal power adaptor |
Product Categorie : Media Converter > Fast Media Converter