N-net 10 / 100M externe media-omzetter
NT-1100 series zijn niet-beheerde stand-alone mediaconverters van glasvezel naar Ethernet-mediaconvertor, waardoor u kunt kiezen uit de meest populaire glasvezelaansluitconnectoren, ST, SC of FC. Deze vezelmediaconverter kan elektrische signalen van 10Base-T en 100Base-TX twisted pairs interconverteren met optische signalen van 100Base-FX. 10 / 100M externe mediaconvertor vergroot de transmissieafstand van het netwerk van 100 m via koperen kabels naar 120 km via glasvezelkabel.
Fibre naar Ethernet Media Converter Snelle functies
10/100 Mbps automatisch gedetecteerd, waardoor netwerkupgrade mogelijk is
Ingebouwde, efficiënte schakelkern om stroomregeling te implementeren en broadcast-pakketten te reduceren
Full-duplex en half-duplex automatische detectie of DIP-Switch instelling
Ondersteuning van automatische detectie van MDI / MDI-X, waardoor de inbedrijfstelling en installatie van het systeem wordt vergemakkelijkt
DIP-Switch ondersteunt instelling half / full-duplex van FX.
DIP-switch ondersteunt 10 / 100Mbps store-and-forward en 100Mbps cut-through-transmissie.
LFP (Link Fault Pass-through) -functie
Ondersteuning van de overdracht van 100Base-FX of STM-1, compatibel met andere apparaten
Ondersteunt lagervertraging
Ondersteuning van de verzending van extra lange pakketten tot 1600 bytes
Extreem laag stroomverbruik (minder dan 2W), betrouwbare en stabiele prestaties
Opties in dual-fiber met enkele modus of dual-mode dubbele vezel.
DIP-Switch-functies
Opmerking: Bij het instellen van de TP-bedieningsmodus (PIN-4 of / en PIN-5), moet de TP-poort in Force-modus werken (PIN-3 AAN).
Specificaties van 10 / 100M Fiber Media Converter
Parameter

Specifications

Access mode

10/100Mbps

Standard

IEEE802.3 10Base-T Ethernet, IEEE802.3u,100Base-TX/FX Fast Ethernet, IEEE802.3x Flow Control

Wavelength

850nm/1310nm/1550nm

Transmission distance

Dual-fiber Multi-mode: 2 km;

Dual-fiber single mode: 20/40/60/80/100/120 km;

Category-5 twisted pairs: 100m

Port

One RJ45 port:

Connecting STP/UTP category-5 twisted pairs, EIA568A/B

One optical port:

Multi-mode Dual-fiber: SC or ST (50/125μm or 62.5/125μm)

Single mode Dual-fiber: SC or FC (9/125μm)

Conversion means

Store and Forward mode or Cut-Through mode

Buffer space

Built in 128Kb RAM for data buffer

Flow control

Full duplex: flow control;

Half duplex: back pressure

<19-9

MTBF

100,000 hours

LED indicator

POER (power supply), FX LINK/ACT (optical link action)

FDX (full duplex), TX LINK/ACT (TP cable link/action)

TX 100 (TP cable rate 100M), FX100(fiber cable rate 100M)

Power supply

External: AC90~264V/DC100~380V input, 5V-12V output

Power consumption

<40W (the chassis at full load), <2W

Operating temperature

-10~55ºC

Operating humidity

5%~90%

Maintaining temperature

-40~70ºC

Maintaining humidity

5% ~ 90% non-condensing

Dimensions

71mm (W)×94mm (D)×26 mm (H) (external power supply)
Fiber To Ethernet Media Converter 10 / 100M- toepassing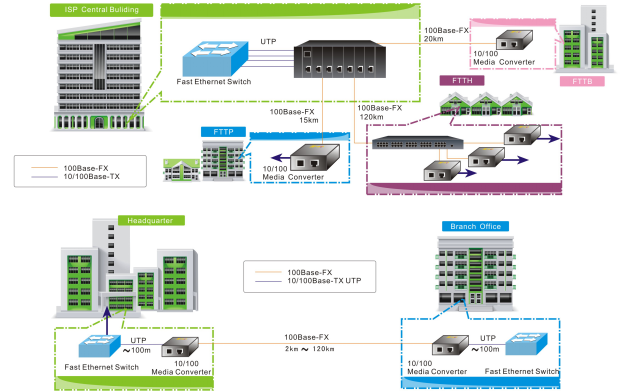 Snelle Fiber Media Converter- verpakking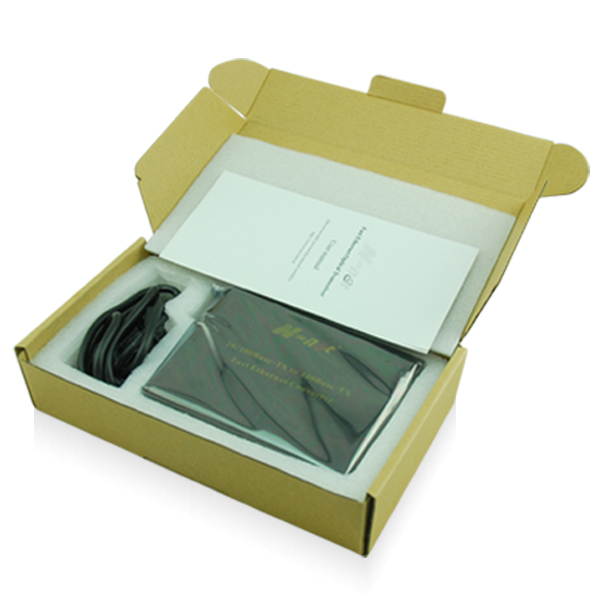 Product Categorie : Media Converter > Fast Media Converter