Overzicht
Met het wijdverbreide gebruik van FPGA's zijn transceivers geïntegreerd in FPGA's en worden ze een effectieve methode om het probleem van de transmissiesnelheid van apparaten op te lossen.
NT-1100I is een snelle interne mediaconverter. Vanwege de unieke functie van een verbindingsfoutalarm tussen de elektrische poort en de optische poort, kan de intelligente 10 / 100M adaptieve snelle Ethernet-mediaconverter de mediaconverter vervangen door netwerkbeheer om de systeemkosten aanzienlijk te verlagen .
De NT-1100I / NT-1100SI Ethernet-mediaconverter kan elektrische signalen van 10Base-T en 100Base-TX twisted-pairs omzetten in optische signalen van 100Base-FX. Het vergroot de transmissieafstand van het netwerk van 100 m via koperkabels tot 120 km via glasvezelkabel. Het stelt de gegevens in staat om te verzenden in twee verschillende media van elektrische en optische netwerken, hetzij door de technologie van datalink L2 store-and-forward, of door die van PHY L1 cut-through). Het ondersteunt transmissie in Multi-mode dual fiber of single mode dual fiber.
Kenmerken
10/100 Mbps automatisch gedetecteerd, waardoor netwerkupgrade mogelijk is
Ingebouwde efficiënte schakelkern om stroomregeling te implementeren en broadcast-pakketten te verminderen
Full-duplex en half-duplex automatisch gedetecteerd
Ondersteuning van auto-sense van MDI / MDI-X, wat de inbedrijfstelling en installatie van het systeem vergemakkelijkt
Ondersteunt half / full-duplex van FX.
Ondersteuning van 10 / 100Mbps store-and-forward en 100Mbps cut-through transmissie.
Ondersteuning van de overdracht van 100Base-FX of STM-1, compatibel met andere apparaten
Ondersteuning van low-time lag-transmissie
Ondersteuning van de verzending van extra lange pakketten tot 1600 bytes
Extreem laag stroomverbruik (minder dan 2 W), betrouwbare en stabiele prestaties
Opties in single mode dual fiber of Multi-mode dual fiber.
Specificaties
Parameter

Specifications

Access mode

10/100Mbps

Standard

IEEE802.3 10Base-T Ethernet, IEEE802.3u,100Base-TX/FX Fast Ethernet, IEEE802.3x Flow Control

Wavelength

850nm/1310nm/1550nm

Transmission distance

Dual-fiber Multi-mode: 2 km;

Dual-fiber single mode: 20/40/60/80/100/120 km;

Category-5 twisted pairs: 100m

Port

One RJ45 port:

Connecting STP/UTP category-5 twisted pairs, EIA568A/B

One optical port:

Multi-mode Dual-fiber: SC or ST (50/125μm or 62.5/125μm)

Single mode Dual-fiber: SC or FC (9/125μm)

Conversion means

Store and Forward mode or Cut-Through mode

Buffer space

Built in 128Kb RAM for data buffer

Flow control

Full duplex: flow control;

Half duplex: back pressure

<19-9

MTBF

100,000 hours

LED indicator

POER (power supply), FX LINK/ACT (optical link action)

FDX (full duplex), TX LINK/ACT (TP cable link/action)

TX 100 (TP cable rate 100M), FX100(fiber cable rate 100M)

Power supply

Internal: input AC90~264V/DC100~380V, output 5V1A

Power consumption

<40W (the chassis at full load), <2W

Operating temperature

-10~55ºC

Operating humidity

5%~90%

Maintaining temperature

-40~70ºC

Maintaining humidity

5% ~ 90% non-condensing

Dimensions

140mm (W)×110mm (D)×30 mm (H) (internal power supply)
Toepassing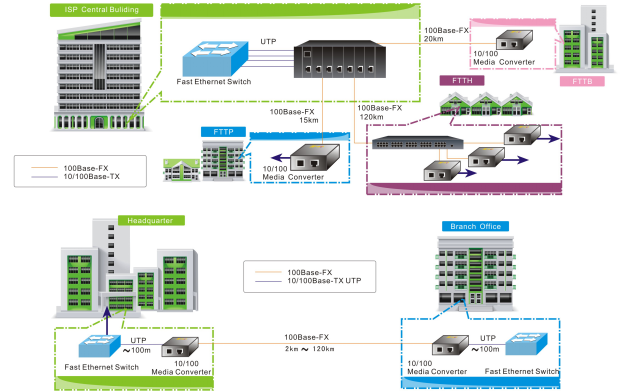 order informatie
| | |
| --- | --- |
| NT-1100I | 10/100Base-T to 100Base-F, multi-mode, 2km, SC, standalone, internal power adaptor |
| NT-1100SI-25 | 10/100Base-T to 100Base-F, single mode, 25km, SC, standalone, internal power adaptor |
| NT-1100SI-40 | 10/100Base-T to 100Base-F, single mode, 40km, SC, standalone, internal power adaptor |
| NT-1100SI-60 | 10/100Base-T to 100Base-F, single mode, 60km, SC, standalone, internal power adaptor |
| NT-1100SI-80 | 10/100Base-T to 100Base-F, single mode, 80km, SC, standalone, internal power adaptor |
| NT-1100SI-100 | 10/100Base-T to 100Base-F, single mode, 100km, SC, standalone, internal power adaptor |
| NT-1100SI-120 | 10/100Base-T to 100Base-F, single mode, 120km, SC, standalone, internal power adaptor |
Product Categorie : Media Converter > Fast Media Converter