N-net Full Gigabit 24-poorts Managed Ethernet Switch
NT-35G24F4GC Ethernet-switch is een hoogwaardige, netwerkbeheer optionele 2L Ethernet all-optische switch. Netwerkbeheerders kunnen de werkstatus van de switch en de netwerkstatus lokaal of op afstand in realtime volgen en de werkstatus en werkmodus van alle switchpoorten wereldwijd beheren. Gebaseerd op een industriële netwerkspecifieke schakelchip als kern, is de belangrijkste toepassing van N-net L2 managed switch ondersteuning te bieden voor Ethernet tweelaags uitwisseling voor de bouw van het campusnetwerk, of met de speciale software (optioneel, authenticatie en facturering) voor Ethernet-toegang of apparatuur voor aggregatie van mobiele breedband. De taak van een managed switch is om alle netwerkbronnen in goede staat te houden. Managed switch-producten bieden een verscheidenheid aan netwerkbeheermethoden, zoals consolegebaseerde terminalcontrolepoort, webpagina en Telnet remote login-netwerk. Deze gigabit-switch zal de cyclus van het netwerk aanzienlijk verkorten en de bouwkosten en onderhoudskosten verlagen, kostenefficiënte toegangsoplossingen voor glasvezeloverdracht.
10/100 / 1000M netwerkswitch-functies
24x 10/100 Mbps downlink glasvezel Ethernet-poorten, 2x 10/100/1000 Mbps uplink Ethernet-poorten en 2x 1000 Mbps uplink SFP-poorten of 4x 1000 M Gigabit Ethernet COMBO-poorten

IEEE 802.3, IEEE 802.3u, IEEE802.3ab, IEEE802.3x, IEEE802.3z

compatibel met verschillende Ethernet-apparaten

Ondersteuning van L2 + Switching-functies, waaronder 802.1Q VLAN, Port Mirroring, Port-isolatie, IGMP Snooping,

DHCP Snooping, DHCP Relay, LACP, IP Source Guard, ARP-inspectie, ACL's etc.

Store-and-forward-mechanisme wordt gebruikt om pakketverlies en foutframes te voorkomen

Ondersteuning voor tree STP (802.1D) en RSTP (802.1W) en MSTP (802.1S)

Ondersteuning van IP / Port / Mac-binding.

Jumbo-frames ondersteunen maximaal 9,6K kilobtyes

Ondersteuning van verbeterd beheer via WEB, CLI, SSH, SNMP.

Ingebouwde 1U-rackvoedingsserie, eenvoudige installatie
Instructie:
1. Front board hebben 33 poorten, bieden 24x 10 / 100Mbps downlink glasvezel Ethernet-poorten, 2x 10/100 / 1000Mbps uplink Ethernet-poorten of 2x 1000Mbps uplink SFP-poorten; of 4x 1000M Gigabit Ethernet COMBO-poorten, en 1x
2. Status LED-indicator:
Vermogen: 1 groen lampje geeft aan dat de voeding normaal werkt;
Ethernet: 28 groene lampjes geven aan dat de Ethernet Link en Act
Ethernet: 28 groene lampjes geven aan dat de Ethernet-snelheid.
Installatie stap
Controleer a.u.b. het apparaat en de accessoires voor de installatie, neem contact op met uw leverancier als er iets ontbreekt.
1. Vezelschakelaar 1PCS
2. Gebruikershandleiding 1PCS
◆ Schakel de signaalbron en de stroom van het apparaat uit voordat u het installeert; installatie met stroom kan het apparaat beschadigen;
◆ Gebruik 24 netwerkkabels om 24 industriële switches aan te sluiten op de 1 ~ 24 glasvezelpoort van de Ethernet-switch;
◆ Gebruik een netwerkkabel om de UPLINK-poort van de Ethernet-switch aan te sluiten op een NVR of ander apparaat;
◆ Ethernet-switch verbinden met voedingsadapter;
◆ Controleer of de installatie correct is en het apparaat goed is, zorg ervoor dat alle verbindingen betrouwbaar zijn en de stroom voor het systeem;
◆ Zorg ervoor dat elk netwerkapparaat voeding heeft en normaal werkt.
L2 Gigabit Ethernet Switch-applicatie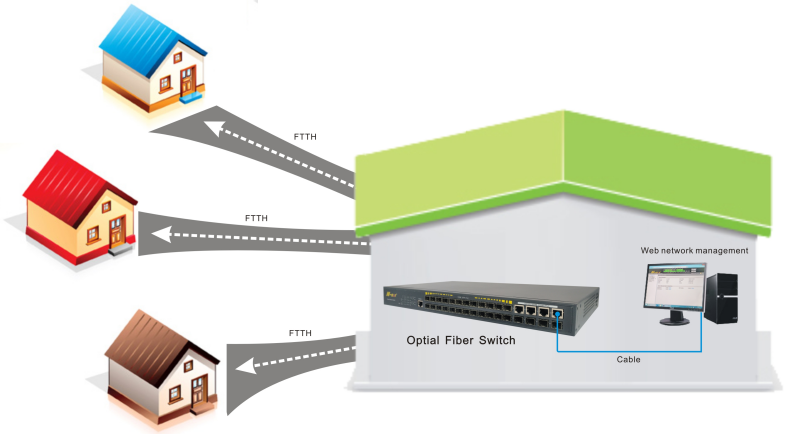 Managed Network Switch voor Expressway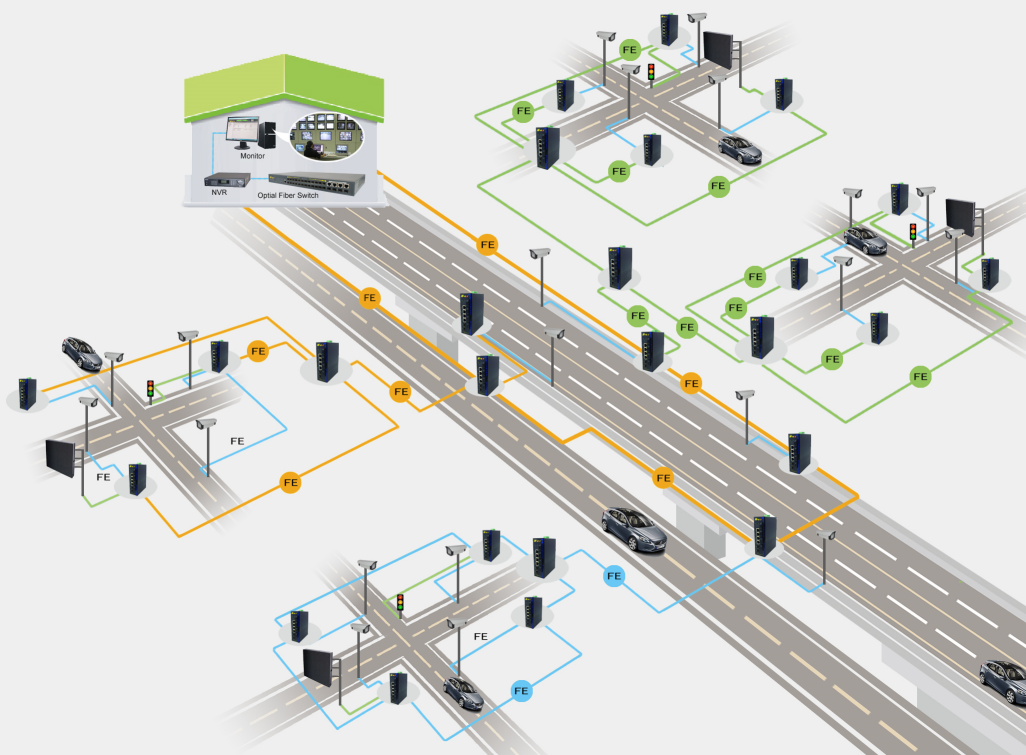 Product Categorie : Ethernet-switch > Gigabit Ethernet-switch