N-net 10/100 / 1000M beheerde Ethernet-switch
De managed PoE-switch heeft een eenvoudig netwerkbeheerprotocol en kan zelf worden geconfigureerd. Het kan het adres, de poort, het protocoltype en de service van de gegevens filteren en heeft meestal de functie van VLAN-partitie.
De NT-35MG22T2GC2GF Ethernet-switch biedt een ideale oplossing voor LAN-implementatie. Deze gigabit-switch is uitgerust met (24) 10/100 / 1000M Base-T Gigabit Ethernet RJ45-poorten die 440 watt PoE-budget ondersteunen voor het aansturen van maximaal 24 gevoede apparaten, met tot 30 W MAX vermogen per poort. De beheerde PoE-switch kan een uitgebreide en intelligente beheermodus bieden om ervoor te zorgen dat alle netwerkbronnen in goede staat verkeren en de stabiliteit en beveiliging van het netwerk het meest effectief worden gegarandeerd. De poe-schakelaar, die stroom levert voor externe apparaten en om automatisch te detecteren of de apparaten PD-apparaten zijn of niet. De functies van beheerde PoE-switches zijn krachtiger dan die van onbeheerde PoE-switches. Met geavanceerde chipsets zorgt de N-net Ethernet PoE- switch voor een snellere verzending.
PoE Switch 24 poorten Functies
1. Ingebouwde efficiënte schakelkern om stroomregeling te implementeren en broadcast-pakketten te verminderen
2. Standaardcompliantie: IEEE802.3 Ethernet,
IEEE802.3u Fast Ethernet,
IEEE802.3ab Gigabit Ethernet
IEEE802.3x Flow Control,
IEEE 802.1p QoS
3. 10/100 / 1000Mbps automatische onderhandeling en auto MDI / MDI-X, compatibel met verschillende Ethernet-apparaten
4. Ondersteuning van L2 + Switching-functies, waaronder 802.1Q VLAN, Mirroring, Port-isolatie, IGMPSnooping,
5. DHCP-snooping, LLDP, PoE + -beheer, IP Source Guard, ARP-inspectie, ACL's enz.
6. Store-and-forward-mechanisme wordt gebruikt om pakketverlies en foutframes te voorkomen
7. Ondersteuning voor tree STP (802.1D) en RSTP (802.1W).
8. G.8032, ondersteuning <50ms industriële snelle ringbescherming
9. Jumbo-frames ondersteunen maximaal 9,6K kilobtyes
10. Ondersteuning kabel diagnose
11. Ondersteuning van verbeterd beheer via WEB, CLI, TELNET, SSH, SNMP.
12. -20 ºC tot 70 ºC bedrijfstemperatuur om te voldoen aan verschillende complexe omgevingen
L2 Managed Switch-applicatie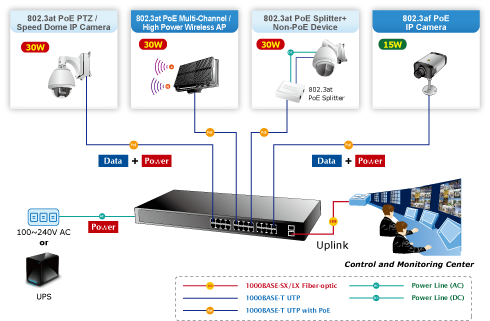 Product Categorie : Ethernet-switch > Gigabit Ethernet-switch