N-net 10G 48 poorten Managed Ethernet Switch
NT-50MG48T4XGF Ethernet-switch biedt 48 10/100 / 1000M Ethernet-poorten en 4 uplink 10G SFP + -poorten, met meerlagige uitwisselingscapaciteit en doorstuurmogelijkheden van de draadsnelheid. Gebruikers kunnen de functies van schakelen instellen via het web, CLI, TELNET, SNMP en vele andere manieren. Deze beheerde gigabit-switch ondersteunt IP, MAC, VLAN, poort, gebruikersidentificatie-element dynamische of statische binding; ondersteuning van poortisolatie, om communicatie tussen 2 naburige netwerkapparatuur hetzelfde uitzenddomein te voorkomen, het netwerkrisico te verminderen en de QoS aanzienlijk te verbeteren, zodat beter kan worden voldaan aan de kwaliteit van de service, netwerkbeveiliging, linkbescherming en andere aspecten van de vraag. Het is zeer geschikt voor geconvergeerde toepassingen van grote netwerken en kerntoepassingen van kleine en middelgrote netwerken.
Functies voor beheerde netwerkschakelaars
1. Ingebouwde efficiënte schakelkern om flow control te implementeren en broadcast-pakketten te verminderen
2. Standaardconformiteit: IEEE802.3-advertentie, link aggregation protocol
IEEE 802.3, 10BASE-T Ethernet
IEEE 802.3u, snelle Ethernet-standaard
IEEE, 802.3ab, Gigabit Ethernet-standaard
IEEE, 802.3z, Gigabit Ethernet optische vezelstandaard
IEEE, 802.3ae, 10G Ethernet-standaard
IEEE, 802.3x, full duplex Ethernet datalink-laag stroomregeling
IEEE, 802.3az, EEE energiezuinige Ethernet-normen
IEEE, 802.1AB, LLDP-protocol
IEEE, 802.1D, STP-protocol
IEEE, 802.1Q, VLAN-normen
3. Store-and-forward-mechanisme wordt gebruikt om pakketverlies en foutframes te voorkomen
4. 10/100 / 1000Mbps automatische onderhandeling en automatische MDI / MDI-X, compatibel met verschillende Ethernet-apparaten
5. Ondersteuning van L2 + Switching-functies, waaronder 802.1Q VLAN, Mirroring, poortisolatie, IGMP Snooping,
6. DHCP Snooping, LLDP, POE + beheer, IP Source Guard, ARP inspectie, ACL's etc.
7. Ondersteuning van boomstructuur STP (802.1D) en RSTP (802.1W).
8. G.8032, ondersteuning van <50ms industriële snelringbeveiliging
9. Jumbo-frames ondersteunen maximaal 9,6 K kilobtyes
10. Ondersteuning kabel diagnose
11. Ondersteuning verbeterd beheer via WEB, CLI, TELNET, SSH, SNMP.
12. -20 ºC Tot 70 ºC bedrijfstemperatuur om te voldoen aan verschillende complexe omgevingen
13. Koperen poorten ondersteunen ESD-bescherming

Instructie netwerkswitch
1. Frontpaneel heeft 53 poorten, biedt 48x 10/100 / 1000Mbps downlink Ethernet-poorten, 4x 10G uplink SFP + poorten,
en 1x consolepoorten.
2. LED-indicatiestatus:
PWR: 1 Groen licht geeft aan dat het vermogen normaal werkt;
SFP +: 4xblauwe lichten geven aan dat de SFP + -poorten zijn ingeschakeld
SYS: 1 Groene lampjes geven de systeemstatus aan.
Ethernet: 48 gele lampjes geven 10 / 100M Ethernet-verbinding en snelheid aan;
Ethernet: 48 groene lampjes geven 10 / 100M / 1000M Ethernet-verbinding en snelheid aan;
Installatie stap
Controleer het onderstaande apparaat en accessoires voor installatie. Neem contact op met uw leverancier als deze ontbreken.
1. 10G Ethernet-schakelaar 1ST
2. Handleiding 1 ST
◆ Schakel de signaalbron en de stroom van het apparaat uit voordat u installeert. Installatie met stroom kan het apparaat beschadigen;
◆ Gebruik 48 netwerkkabels om 48 IP-camera's aan te sluiten op de 1 ~ 48-poort van de Ethernet-switch;
◆ Gebruik de netwerkkabel om de UPLINK-poort van de Ethernet-switch te verbinden met NVR of een ander apparaat;
◆ Controleer of de installatie correct is en het apparaat goed is, zorg ervoor dat alle verbindingen betrouwbaar zijn en stroom leveren voor het systeem;
◆ Verbind het stopcontact en de schakelaar met het netsnoer.
◆ Zorg ervoor dat elk netwerkapparaat stroomvoorziening heeft en normaal werkt.
L2 Managed Switch-toepassing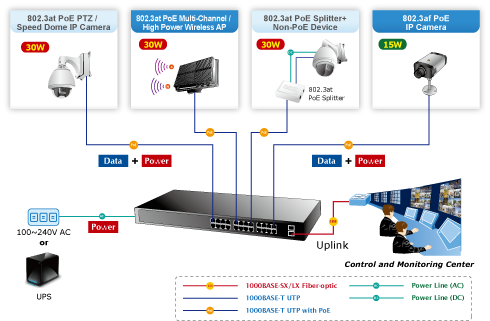 Gigabit Ethernet Switch-informatie
| | |
| --- | --- |
| Model | Description |
| NT-50MG48T4XGF | Management 10G Ethernet Switch, (48) 10/100/1000Mbps downlink Ethernet Ports, (4) 10G uplink SFP+ Ports. |
Product Categorie : Ethernet-switch > Gigabit Ethernet-switch