Omschrijving:
NT-EPU801 (SFU) is een mini GEPON ONU-eindapparaat, dat van toepassing is op pure breedbandtoegang.Het heeft een mini-type compact structuurontwerp met hoge integratie en kan 1 GE (RJ45) -interfaces bieden. Ondersteunt de technologie van de routerfunctie van laag 3 met PPPOE / DHCP / Static IP, en het is gemakkelijk te onderhouden en te beheren. zoals IEEE802.3ah en technische vereisten van EPON-apparatuur (V3.1).
GPON (Gigabit Passive Optical Network) Dit is de ontwikkeling van de BPON-standaard. GPON ondersteunt hogere tarieven, verbeterde beveiliging en optionele Layer 2-protocollen (ATM, GEM, Ethernet). Medio 2008 had Fryson Telecom 800.000 lijnen geïnstalleerd. British Telecom (British Telecom) en American Telephone and Telegraph Company (AT & T) voeren geavanceerde proeven uit. Andere bedrijven zoals Independent Fibre Networks Ltd. werken samen met serviceproviders zoals See the Light om snellere GPON-verbindingen en glasvezel aan huis te leveren.

Voorzien zijn van:
Plug and play, met automatische detectie, automatische configuratie en automatische firmware-upgrade, enz.
Ondersteuning voor drievoudig churning-coderingsverzoek
Ondersteuning voor DBA-rapportagemechanisme
Ondersteuning OAM configuratie-onderhoud op afstand functie
Ondersteun de externe upgrade en download
Ondersteuning van statusdetectie en foutrapport
Ondersteuning voor het configureren van de werkmodus op de gebruikerspoort.
Ondersteuning van gegevensversleuteling en ontsleuteling
Ondersteuning van 802.1Q VLAN
Ondersteuning van rijke QinQ VLAN-functies en IGMP-snooping
Ondersteun verkeersregel om de gerelateerde prioriteit te wijzigen.
Ondersteuning LED-indicatie
Ondersteuning om de fabrieksinstellingen te herstellen
Ondersteun de reset op afstand en start opnieuw op
Ondersteuning stervende uitval alarm
Volledige compatibiliteit met OLT op basis van ZTE-chipset.
Toepassingen:
Gegevensdiensten
Spraakdiensten
Videodiensten
Monitoring dienst
FTTH / FTTB / FTTO / FTTP
Prestatiespecificatie:
Technical items

Description

Optical property

Upstream PON interface

1 EPON interface, SC single-mode/single-fibre, symmetric 1.25 Gbps

Wavelength

Tx 1310nm, Rx 1490nm

Optical output power

-1~+4dBm

Receiving sensitivity

<-26dBm

Farthest distance

20km between OLT and ONU

Optical interface

SC/UPC connector

Downstream LAN interface

1*10/100/1000Mbps auto adaptive Ethernet interfaces, Full Duplex/Half Duplex, RJ45 connectors

Ethernet function

Support IEEE802.1Q VLAN

Support speed rate inhibition of broadcast packet at ONU

IEEE 802.3X flow control

Support 16 multicast addresses at each LAN port

Security strategy

Support AES-128,data encryption for both upstream and downstream

Support dynamic update of key

Management maintenance

Centralized OLT management based on OAM

WEB,CLI

Upgrade software remotely

Hardware information

Indicators

4 indicators, for status of power supply, PON port and 1 Giga-Ethernet port.

DC power supply

+12V, external AC-DC power adaptor

Chipset

ZTE chipset

Power switch

1

Power consumption

≤2.5W

Operating condition

Operating temp: -5~+55℃
Operating humidity:10~90%(non-condensed)

Storing condition

Storing temp: -30~+60℃
Storing humidity:10~90%(non-condensed)

Dimension

120mm*100mm*30mm(length*width*height)

Net weight

0.24Kg
Oplossingen: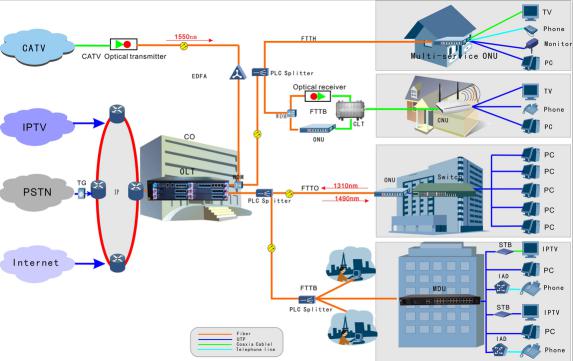 Product Categorie : Passief optisch netwerk (PON-serie) > GPON ONU / OLT