Overzicht
Aggregatie
We hebben al eerder de kenmerken van poortaggregatie aangeroerd. Deze methode komt overeen met het tegelijkertijd gebruiken van meerdere poorten voor cascadering. Het biedt een hogere bandbreedte voor interconnectie en lijnredundantie, waardoor het netwerk een zekere betrouwbaarheid heeft.
NT-IN126-4POE is een industriële Fast Ethernet POE-switch met 8 poorten. Het ondersteunt 6-poorts 10 / 100BASE-T en 2-poorts 100Base-X.
Stapelmethode
Het stapelen van switches is de snelste en handigste manier om poorten uit te breiden, en de bandbreedte na het stapelen is enkele tientallen keren de snelheid van een enkele switchpoort. Niet alle switches ondersteunen echter stapelen, wat afhangt van het feit of het merk of model van de switch stapelen ondersteunt; en vereist ook het gebruik van speciale stapelkabels en stapelmodules; Merk ten slotte op dat schakelaars in dezelfde stapel van hetzelfde merk moeten zijn.
NT-IN126-4POE Industriële Fast Ethernet POE Switch- serie is verpakt in een compacte IP40-behuizing die montage op DIN-rail of paneel mogelijk maakt voor efficiënt gebruik van kastruimte.
Gelaagde aanpak
Deze methode wordt over het algemeen gebruikt in meer gecompliceerde schakelstructuren, die volgens functies kunnen worden onderverdeeld in toegangslaag, convergentielaag en kernlaag.
NT-IN126-4POE Industrial Switch- serie ondersteunt 4-poorts POE-functie. Zonder stroom en draden, kan voeding voor HD IP-camera, draadloze AP.IP-telefoon enzovoort. Onze Industrial Fibre Switch ondersteunt IEEE802.3at, 25,5W output. Het ondersteunt in dual fiber single mode.
naschrift
Als een belangrijk verbindingsapparaat van het netwerk komt de switch vrij vaak voor bij daadwerkelijk gebruik. Voor gewone thuisgebruikers is de complexere toepassing de cascadestructuur van de switch; en geavanceerde toepassingen zoals drielaags routing en stacking worden over het algemeen gebruikt in ondernemingen. [1]
Kenmerken
Ingebouwde efficiënte schakelkern om stroomregeling te implementeren en broadcast-pakketten te verminderen
Standaard :: IEEE802.3u 100BASE-FX, IEEE802.3u 100BASE-TX. IEEE802.3 10BASE-T.
IEEE802.3x Flow Control. IEEE802.3at
10 / 100Base-TX kan automatisch de directe lijn en cross-line identificeren, is compatibel met verschillende kaarten, schakelaars, HUB en andere Ethernet-apparaten.
Het maakt gebruik van een store-and-forward-mechanisme om pakketverlies en foutframes te voorkomen
Ondersteunt 6 zelfstandige 10M / 100Mbps Adaptieve geschakelde twisted-pair kabel. Realiseer back-up van elektriciteit en gebruikerstoegang
Deze

industriële Fast Ethernet POE-switch

ondersteunt jumboframes tot 1600 bytes
Ondersteuning van cut-through transmissie en full-duplex flow control / half-duplex tegendrukmodus
12V tot 48V DC of 24V AC Brede voedingsingang, redundant vermogen en bescherming tegen omgekeerde polariteit

-40 tot 85 ℃ bedrijfstemperatuur om te voldoen aan een verscheidenheid aan complexe omgevingen
IP40 beschermingsnorm behuizing
Voedingspoort en Ethernet-poort ondersteunen ESD-bescherming en EFT-bescherming
DIN-rail en paneelmontage voor efficiënt gebruik
Ondersteuning van dual-fiber multi-mode, dual-fiber single-mode en single-fiber single-mode fiber-poort selectie, breidde de behoeften van gebruikers uit
Ondersteuning van POE-voeding tot 25,5 W (optioneel)
Biedt tot 4K MAC-adresinvoer en ingebouwd 1,25 Mb RAM
Enkele modus met dubbele vezels
Specificaties
Parameter

Specifications

Design Level

Industrial grade IP40 design standards

Access mode

10/100Mbps

Standard

IEEE802.3u 100BASE-FX,IEEE802.3u 100BASE-TX. IEEE802.3 10BASE-T.

IEEE802.3x Flow Control. IEEE802.3at

Wavelength

1310nm/1550nm

Transmission distance

Dual-fiber multi-mode:2 km

Dual-fiber single mode:20/40/60/80/100 /120 km

Category-5 twisted pairs: 100m

Port

Eight RJ45 port:

Connecting STP/UTP category-5 twisted pairs, EIA568A/B

Two optical port:

Single-mode :SC / FC/LC(50/125, 62.5/125μm)

Conversion means

Store and Forward mode

Address table

4K

Buffer space

1.25 Mbit

Flow control

Full duplex: flow control; Half duplex: back pressure

Delay

store-and-forward:9.6us

BER

<10-9

MTBF

50,000 hrs

LED indicator

POE1 ( POE1 power on/off).POE2 ( POE2 power on /off).POE3 ( POE3 power on/off).

POE4 ( POE4 power on/off),(1~6) UTP Port: L/A ,100

PWR1(PWR1 power on/off) ,PWR2(PWR2 power on/off)

F1(F1 Link/transmission),F2(F2 Link/transmission)

Power supply

Power Input Range: 12 ~ 48VDC/24VAC ,

6-PIN Terminals, Redundant dual power

Power consumption

7W

Storage humidity

5%~90% non-condensing

Operating humidity

5%~90% non-condensing

Operating temperature

-40~80℃

Storage Temperature

-40~85℃

Dimensions

155mm×125mm×50mm (W×D×H)
Certificatie
EMI

FCC Part 15, CISPR (EN55022) class A

EMC

FCC,CE

EMS

EN61000-4-2 (ESD), Level 4

EN61000-4-3 (RS), Level 3

EN61000-4-4 (EFT), Level 4

EN61000-4-5 (Surge), Level 4

EN61000-4-6 (CS), Level 3

EN61000-4-8, Level 5

EN61000-4-11

Shock

IEC 60068-2-27

Free Fall

IEC 60068-2-32

Vibration

IEC 60068-2-6
Productfoto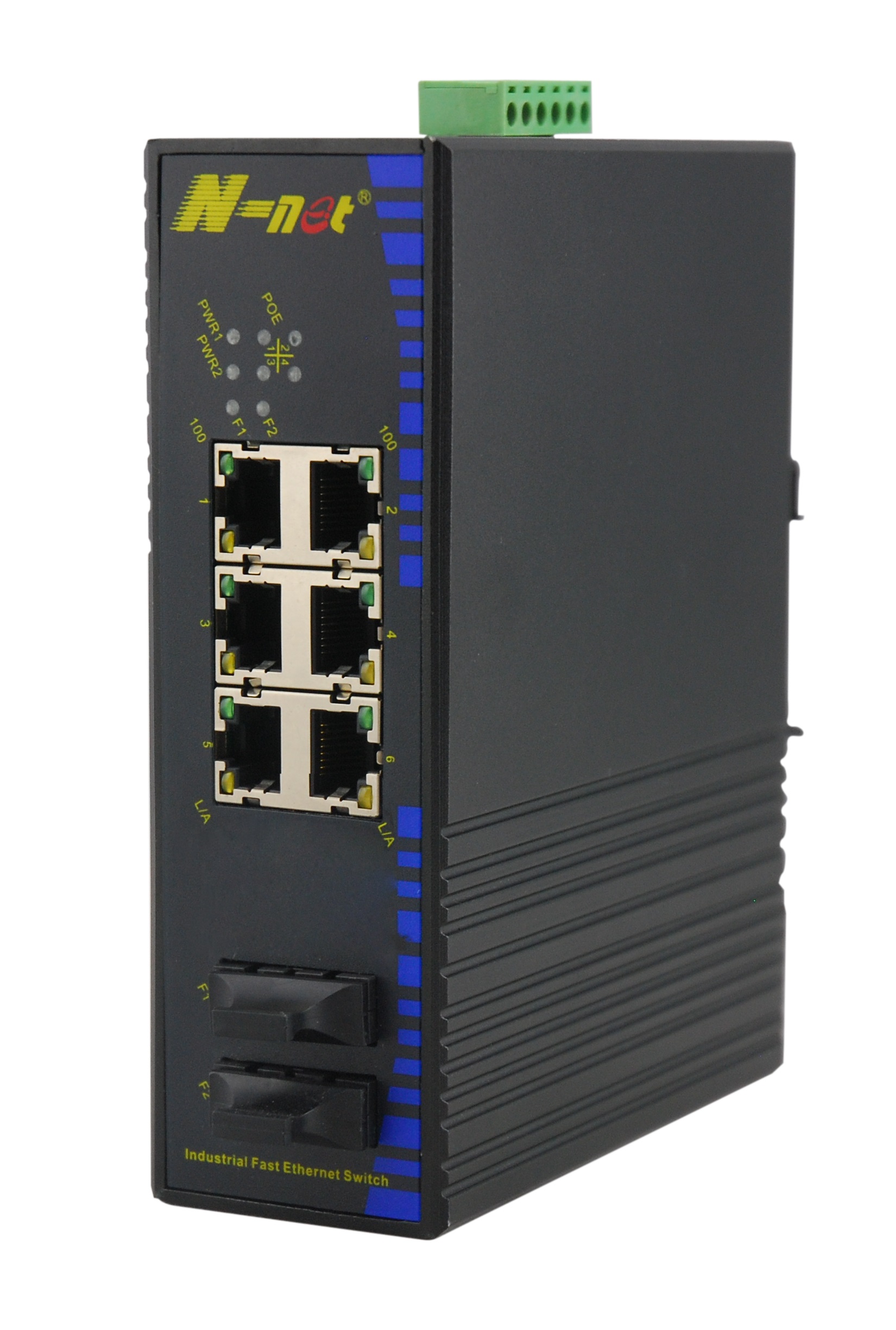 Product Categorie : Industriële Ethernet-switch > Industriële Fast Ethernet POE-schakelaar