Industrial Fast Ethernet POE-switch Overzicht
NT-IN111D is industriële Fast Ethernet POE-switch uitgerust met een 10 / 100M UTP-poort en low-speed data. Het biedt één 10 / 100Base-T-poorten, 3 low-speed datapoorten en één 100Bse-FX-poort. Met een strikt industrieel ontwerp is het een fundamentele garantie voor stabiliteit en uitvoerbaarheid voor flexibele transmissieafstand van de Ethernet- en low speed-gegevens in de extreme industriële omgeving.
Pas NT-IN111D Industrial Fast Ethernet POE-switch toe met toerusting op low-speed datapoort met NT-IN114D industriële switch, buffering van bursts van zware verkeersstromen, rate smoothing van netwerkservices en verzending op afstand van low-speed data kan perfect worden opgelost, met de leidende functie voordeel op dit gebied.
NT-IN111D Industriële Fast Ethernet POE-switch kan in de schakelkast worden geïnstalleerd door een optionele DIN-RIAL- of muurbevestiging aan te nemen. Het is een compact product, ondersteunt een brede werktemperatuur, redundante voedingsingang, IP40-bescherming, LED-indicatielampje, is de beste keuze voor de industriële speciale toepassing en een betrouwbare oplossing voor uw industriële Ethernet-verbindingen.
Industriële Fast Ethernet POE-schakelaar Functies
Procotols: IEEE802.3 / u, 10Base-T.100Base-TX
10 / 100Base-TX kan automatisch de directe lijn en cross-line identificeren, is compatibel met verschillende kaarten, switches, HUB en andere Ethernet-apparaten
Maak gebruik van door-en-doorgaande technologie, waardoor de tijdvertraging op het netwerk efficiënt wordt verminderd.
Ondersteuning voor max. 11K Bytes-pakketoverdracht
Ondersteunt doorgesneden transmissie en full-duplex flow control / half-duplex tegendrukmodus
Ondersteuning 3 low-speed datapoort, elk kan worden ingesteld als een gescheiden RS232, RS485 of contact sluiting type.
De gegevenspassage met lage snelheid neemt Time Division Multiplexing-verzending over, dat maakt een lage vertraging mogelijk en is eenvoudig toe te passen zonder het IP-adres te bezetten.
De gegevenspoort met lage snelheid ondersteunt 0-115200bps snelheid
De gegevenspoort met lage snelheid ondersteunt multi-beveiliging tegen bliksem, overspanning, overspanning en ESD
12V tot 48V DC of 24V AC Brede voedingsingang, redundante voeding en bescherming tegen omgekeerde polariteit
Ondersteunt remote power off detectie en indicatie
-40 tot 80 ℃ bedrijfstemperatuur om te voldoen aan verschillende complexe omgevingen
IP40 beschermingsstandaard behuizing
Stroompoort en Ethernet-poort ondersteunen ESD-bescherming en EFT-bescherming
DIN-rail en paneelmontage voor efficiënt gebruik
Ondersteuning van dual-fiber multi-mode, dual-fiber single-mode en single-fiber single-mode glasvezel poort selectie, uitgebreid de behoeften van gebruikers
Industriële Fast Ethernet POE-schakelaar Specificatie:
Parameter

Specifications

Design Level

Industrial grade IP40 design standards

Access mode

10/100Mbps

Standard

IEEE802.3/u.10Base-T.100Base-TX

Wavelength

1310nm/1550nm

Transmission distance

Dual-fiber multi-mode:2 km

Single fiber single mode: 20/40/60/80/100 km

Dual-fiber single mode:20/40/60/80/100 /120 km

Category-5 twisted pairs: 100m

Port

One RJ45 port:

Connecting STP/UTP category-5 twisted pairs, EIA568A/B

One optical port:

Multi-mode :SC / FC/LC(50/125, 62.5/125μm)

Single mode : SC / FC/LC (9/125)

3 low-speed data port, Industrial terminals, connecting to RS232,R485,contact closure according to the setting

Conversion means

Store and Forward mode or Time division

Flow control

Full duplex: flow control;

Half duplex: back pressure

BER

<10-9

MTBF

50,000 hrs

LED indicator

L/A(Link/Transmit),100M(Speed),

PWR(Power),RPF(Remote power-off),SD(Fiber signal)

D1(Data passage 1 signal),D2(Data passage 2 signal),D3(Data passage 3 signal)

Power supply

Power Input Range: 12 ~ 48VDC/24VAC ,

6-PIN Terminals, Redundant dual power, support power-off detection

Power consumption

<2W (without PSE function)

Operating temperature

-40~80ºC

Operating humidity

5%~90% non-condensing

Storage Temperature

-40~80ºC

Storage humidity

5%~90% non-condensing

Dimensions

155mm(length)×125mm(wide)×50mm(height)

Weight
Industriële Fast Ethernet POE-schakelaar Certificering
EMI

FCC Part 15, CISPR (EN55022) class A

EMC

FCC,CE

EMS

EN61000-4-2 (ESD), Level 4

EN61000-4-3 (RS), Level 3

EN61000-4-4 (EFT), Level 4

EN61000-4-5 (Surge), Level 4

EN61000-4-6 (CS), Level 3

EN61000-4-8, Level 5

EN61000-4-11

Shock

IEC 60068-2-27

Free Fall

IEC 60068-2-32

Vibration

IEC 60068-2-6

Green product

RoHS
Industriële Fast Ethernet POE-schakelaar Toepassing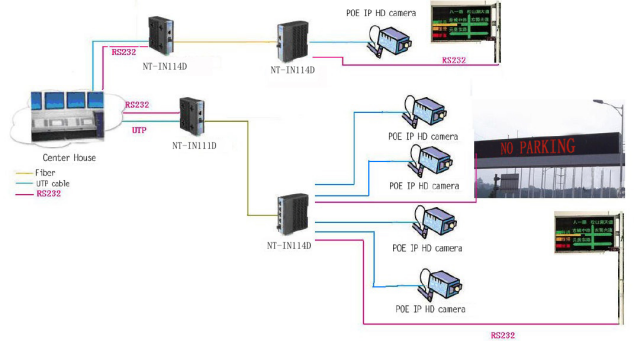 Industriële Fast Ethernet POE-schakelaar Dimension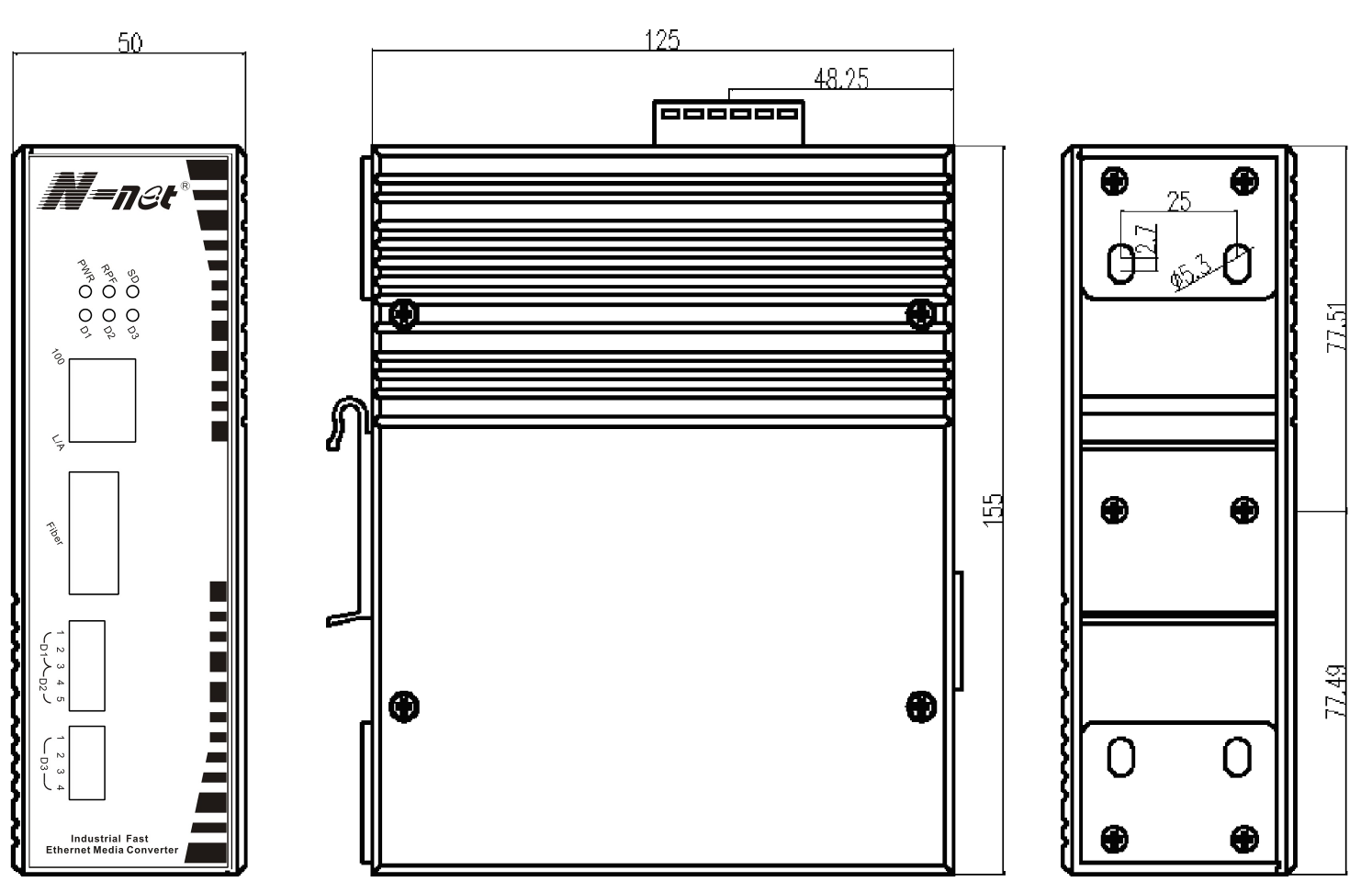 Product Categorie : Industriële Ethernet-switch > Industriële Fast Ethernet POE-schakelaar