Overzicht
Load balancing
Er zijn twee manieren om de taakverdeling tussen kanaalpoorten te doen: doorsturen op basis van bron-MAC en doorsturen op basis van doel-MAC.
scr-mac: Gegevensframes met hetzelfde bron-MAC-adres worden doorgestuurd via dezelfde poort.
NT-IN1442GF Industriële Fast Ethernet POE-switch-series zijn 10-poorts industriële snelle hybride POE-switch met 4 100Base-FX-poorten en 4 100Base-TX-poorten die ook 2 Gigabit Ethernet 1000Base-FX-poorten hebben, die ideaal zijn voor toepassingen die hoge overdracht van gegevens over bandbreedtegegevens.
dst-mac: Gegevensframes met hetzelfde bestemmings-MAC-adres worden doorgestuurd op dezelfde poort. [3]
Four-layer-technologie
NT-IN1442GF Industriële Fast Ethernet POE-switch- serie accepteert 12 ~ 48VDC of 24VAC redundante voedingsingangen, met robuuste IP40-kwaliteit metalen behuizing, DIN-railmontage of wandmontage en hoogwaardige EMI / EMC-mogelijkheden.
Het transmissievolume van audio, video, data en andere informatie in het netwerksysteem is vol bezette bandbreedte.
NT-IN1442GF Industriële, snelle hybride POE-schakelaarreeksen bieden een bedrijfstemperatuurbereik van -40 ℃ tot 80 ℃. Al deze eigenschappen maken de schakelaars ideaal voor toepassingen zoals videobewaking, tolsysteem, draadloze toegang en automatische fabrieksinstellingen.
We moeten gedifferentieerde services bieden voor deze gegevensstromen om vertragingsgevoelige en belangrijke gegevens eerst door te laten.
NT-IN1442GF-serie industriële glasvezelswitch voldoet aan IEEE 802.3at High Power over Ethernet-technologie (optioneel).
Dit moet worden overwogen. De vierde uitwisselingslaag die voldoet aan de behoeften van op beleid gebaseerde planning, QoS (Quality of Service) en beveiligingsservices.
Het is achterwaarts compatibel met 802.3af PSE-standaarden, zodat gebruikers flexibel standaard- en krachtige apparaten tegelijkertijd kunnen inzetten zonder softwareconfiguratie. Met data en Power over Ethernet uit één unit, zal de NT-IN1442GF Industrial Switch- serie het gebruik van kabels verminderen en de noodzaak van speciale stopcontacten aan de muur, het plafond of een onbereikbare plaats elimineren.
Kenmerken
Ingebouwde efficiënte schakelkern om stroomregeling te implementeren en broadcast-pakketten te verminderen
Protocol: IEEE802.3u 100BASE-FX, IEEE802.3u 100BASE-TX, IEEE802.3 10BASE-T, IEEE802.3x Flow Control, IEEE802.3z 1000Base-X, IEEE802.3at PSE, IEEE802.3af PSE
Ondersteunt 2 gigabit SFP-slots voor uplink, 4 10 / 100M koperpoorten en 4 100M glasvezelpoorten
Identificeer automatisch de directe lijn en cross-line, compatibel met verschillende NIC's, switches, HUB en andere Ethernet-apparaten
Het maakt gebruik van een store-and-forward-mechanisme om pakketverlies en foutframes te voorkomen
Deze industriële Fast Ethernet POE-switch ondersteunt full-duplex flow control / half-duplex tegendrukmodus
Ondersteun jumboframe tot 1536 byte
Ideaal voor elke complexe netwerkomgeving met 3Mb databuffer en 8.8G non-blocking switch fabric
12V tot 48V DC of 24V AC Brede voedingsingang, redundant vermogen en bescherming tegen omgekeerde polariteit
-40 tot 80 ℃ bedrijfstemperatuur om te voldoen aan een verscheidenheid aan complexe omgevingen
IP40 beschermingsnorm behuizing
Ondersteuning van ESD- en EFT-bescherming op de voedingsingangspoort en Ethernet-poort
DIN-rail en wandmontage voor eenvoudige installatie
Modellen met dual-fiber multi-mode / single-mode en single-fiber single-mode beschikbaar, die voldoen aan verschillende behoeften van gebruikers
Deze industriële Fast Ethernet-switch ondersteunt POE-voeding tot 25,5 W (optioneel)
Specificaties
Parameter

Specifications

Design Level

Industrial IP40 grade standards

Access mode

10/100/1000Mbps

Standard

IEEE802.3u 100BASE-FX, IEEE802.3u 100BASE-TX

IEEE802.3 10BASE-T, IEEE802.3x Flow Control

IEEE802.3z 1000Base-X, IEEE802.3at PSE, IEEE802.3af PSE

Wavelength

850nm/1310nm/1550nm

Transmission distance

Dual-fiber multi-mode:2 km

Single fiber single mode: 20/40/60/80 km

Dual-fiber single mode:20/40/60/80/100 km

Category-5 twisted pairs: 100m

Port

RJ45 ports:

Connecting STP/UTP category-5 twisted pairs, EIA568A/B

100M fiber ports:

Multi-mode :SC / FC/LC(50/125, 62.5/125μm)

Single mode : SC / FC/LC (8.3/125, 8.7/125, 9/125 or 10/125μm)

Gigabit SFP ports: depend on SFP module

Switch Architecture

Store and Forward

Switch Fabric

8.8G/Non-blocking

Address table

4K

Buffer space

Built in 3Mb RAM for data buffer

Flow control

Full duplex: flow control; Half duplex: back pressure

BER

<10-9

MTBF

50,000 hours

LED indicator

Power Supply : PWR 1 , PWR 2

UTP Port: POE, L/A ,100

Fiber Port: L/A

Power supply

Power Input Range: 12 ~ 48VDC/24VAC ,6-PIN Terminals, Redundant dual power

Supply, overload protection and polarity-reverse protection

Power consumption

<10W

Operating temperature

-40~80ºC

Operating humidity

5%~90% non-condensing

Storage Temperature

-40~85ºC

Storage humidity

5%~90% non-condensing

Dimensions

155mm (W)×125mm (D)×50 mm (H)

Weight
Certificatie
EMI

FCC Part 15, CISPR (EN55022) class A

EMC

FCC,CE

EMS

EN61000-4-2 (ESD), Level 4

EN61000-4-3 (RS), Level 3

EN61000-4-4 (EFT), Level 4

EN61000-4-5 (Surge), Level 4

EN61000-4-6 (CS), Level 3

EN61000-4-8, Level 5

EN61000-4-11

Shock

IEC 60068-2-27

Free Fall

IEC 60068-2-32

Vibration

IEC 60068-2-6
Toepassing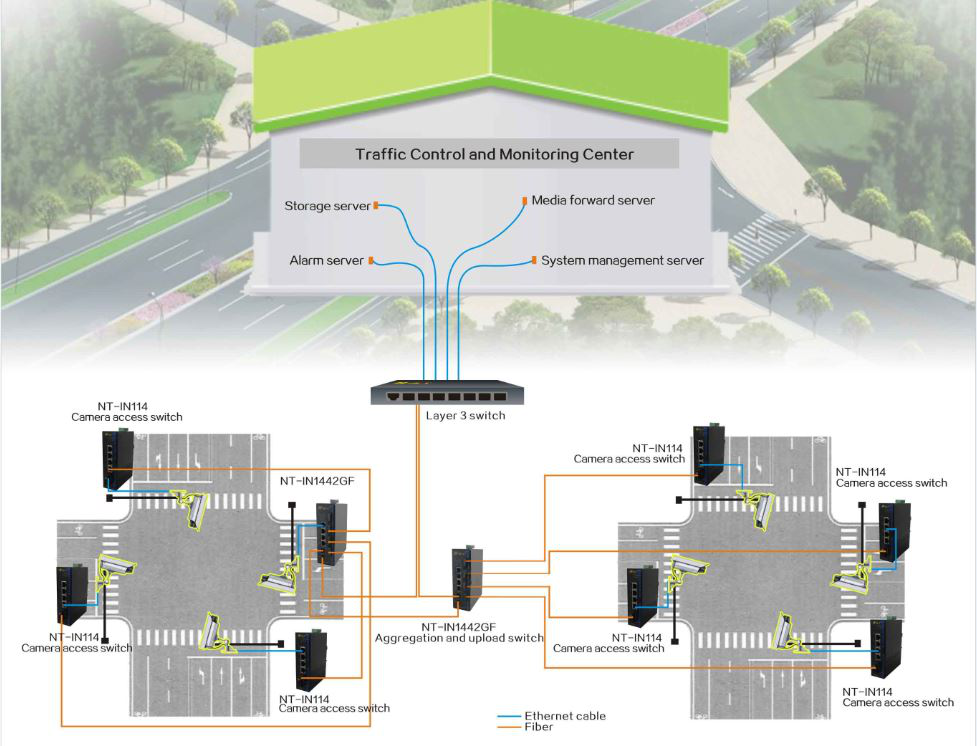 Dimensies
order informatie
| | |
| --- | --- |
| Hot model | Description |
| NT-IN1442GF | Industrial switch, four 100M fiber port (dual fiber, MM, 2km, SC) , two 1000M SFP port without SFP module, four 100M Ethernet port, standalone, without power supply adaptor |
| NT-IN1442GFS-20 | Industrial switch, four 100M fiber port (dual fiber, SM, 20km, SC) , two 1000M SFP port without SFP module, four 100M Ethernet port, standalone, without power supply adaptor |
| NT-SIN1442GF-20 | Industrial switch, four 100M fiber port (single fiber, SM, 20km, SC) , two 1000M SFP port without SFP module, four 100M Ethernet port, standalone, without power supply adaptor |
Product Categorie : Industriële Ethernet-switch > Industriële Fast Ethernet POE-schakelaar