Overzicht
NT-IN114D Industrial Fast Ethernet-schakelaarserie is Industrial Fast Ethernet-switch met 4 10 / 100M UTP-poort met low-speed datapoort. Het biedt 4 10 / 100Base-T-poorten, 3 low-speed datapoort en 1100FX-poort. Met een strikt industrieel ontwerp is het een fundamentele garantie voor stabiliteit en uitvoerbaarheid voor flexibele transmissieafstand van de Ethernet- en low speed-gegevens in de extreme industriële omgeving.
Toepassing NT-IN114D Industrial Fast Ethernet Switch toerusting low-speed datapoort met NT-IN111D industriële mediaconvertor, buffering van zware verkeerssalvo's, snelheidsafvlakking van netwerkservice en externe verzending van low-speed data kan perfect worden opgelost, met de leidende functie voordeel op dit gebied.
NT-IN114D industriële glasvezelschakelaar kan in de schakelkast worden geïnstalleerd door een optionele DIN-RIAL- of muurbevestiging aan te nemen. Het is een compact product, ondersteunt een brede werktemperatuur, redundante voedingsingang, IP40-bescherming, LED-indicatielampje, is de beste keuze voor de industriële speciale toepassing en een betrouwbare oplossing voor uw industriële Ethernet-verbinding.
NT-IN114D-AT (AF) Industriële netwerkschakelingsserie voegt PoE-functie toe en voorziet 4 POE-voedingspoorten. Geen behoefte aan de stroom- of stroomkabel, de High Definition IP-camera, draadloze AP, IP-telefoonapparaat kan worden aangestuurd door de Poe-technologie via een UTP. Voor N-net Poe unmanaged industrial Switch ondersteuning IEEE802.3at standaard, output 25,5W.
Kenmerken
Ingebouwde, efficiënte schakelkern om stroomregeling te implementeren en broadcast-pakketten te reduceren
Standaard: IEEE802.3 / u, 10Base-T, 100BASE-TX, IEEE802.3af, IEEE802.3at
10 / 100Base-TX kan automatisch de directe lijn en cross-line identificeren, is compatibel met verschillende kaarten, switches, HUB en andere Ethernet-apparaten
Het gebruikt een store-and-forward mechanisme om packet loss en error frames te voorkomen
Voorzie in 4 onafhankelijke 10 / 100M Base-TX-poorten voor UTP-redundante en multi-gebruikerstoegang
Ondersteunt Max tot 1552Bytes pakkettransmissie
Ondersteunt doorgesneden transmissie en full-duplex flow control / half-duplex tegendrukmodus
Ondersteuning 3 low-speed datapoort, elk kan worden ingesteld als een gescheiden RS232, RS485 of contact sluiting type.
De gegevenspassage met lage snelheid neemt Time Division Multiplexing-verzending over, dat maakt een lage vertraging mogelijk en is eenvoudig toe te passen zonder het IP-adres te bezetten.
De gegevenspoort met lage snelheid ondersteunt 0-115200bps snelheid
De gegevenspoort met lage snelheid ondersteunt multi-beveiliging tegen bliksem, overspanning, overspanning en ESD
12V tot 48V DC of 24V AC Brede voedingsingang, redundante voeding en bescherming tegen omgekeerde polariteit
Ondersteunt remote power off detectie en indicatie
-40 tot 80 ℃ bedrijfstemperatuur om te voldoen aan verschillende complexe omgevingen
IP40 beschermingsstandaard behuizing
Stroompoort en Ethernet-poort ondersteunen ESD-bescherming en EFT-bescherming
DIN-rail en paneelmontage voor efficiënt gebruik
Ondersteuning van dual-fiber multi-mode, dual-fiber single-mode en single-fiber single-mode glasvezel poort selectie, uitgebreid de behoeften van gebruikers
Ondersteunt POE-voeding tot 25,5 W voor enkele poort
7 Gbps Niet-blokkerende schakelbandbreedtesnelheid, 2K MAC-adres automatisch leren en 16 MB interne cache
Specificatie
Parameter

Specifications

Design Level

Industrial grade IP40 design standards

Access mode

10/100/1000Mbps

Standard

IEEE802.3/u.10Base-T.100Base-TX.IEEE802.3af.IEEE802.3at

Wavelength

1310nm/1550nm

Transmission distance

Dual-fiber multi-mode:2 km

Single fiber single mode: 20/40/60/80/100 km

Dual-fiber single mode:20/40/60/80/100 /120 km

Category-5 twisted pairs: 100m

Port

Four RJ45 port:

Connecting STP/UTP category-5 twisted pairs, EIA568A/B

One optical port:

Multi-mode :SC / FC/LC(50/125, 62.5/125μm)

Single mode : SC / FC/LC (9/125)

3 low-speed data port, Industrial terminals, connecting to RS232,R485,contact closure according to the setting

Conversion means

Store and Forward mode or Time division

Address table

2K

Buffer space

Built in 16M RAM for data buffer

Flow control

Full duplex: flow control;

Half duplex: back pressure

BER

<10-9

MTBF

50,000 hrs

LED indicator

L/A(Link/Transmit),100M(Speed),

PWR(Power),RPF(Remote power-off),SD(Fiber signal)

D1(Data passage 1 signal),D2(Data passage 2 signal),D3(Data passage 3 signal)
Power supply

Power Input Range: 12 ~ 48VDC/24VAC ,

6-PIN Terminals, Redundant dual power, support power-off detection

Power consumption

<3W (without PSE function)

Operating temperature

-40~80ºC

Operating humidity

5%~90% non-condensing

Storage Temperature

-40~80ºC

Storage humidity

5%~90% non-condensing

Dimensions

155mm(length)×125mm(wide)×50mm(height)

Weight
certificaat
EMI

FCC Part 15, CISPR (EN55022) class A

EMC

FCC,CE

EMS

EN61000-4-2 (ESD), Level 4

EN61000-4-3 (RS), Level 3

EN61000-4-4 (EFT), Level 4

EN61000-4-5 (Surge), Level 4

EN61000-4-6 (CS), Level 3

EN61000-4-8, Level 5

EN61000-4-11

Shock

IEC 60068-2-27

Free Fall

IEC 60068-2-32

Vibration

IEC 60068-2-6

Green product

RoHS
Toepassing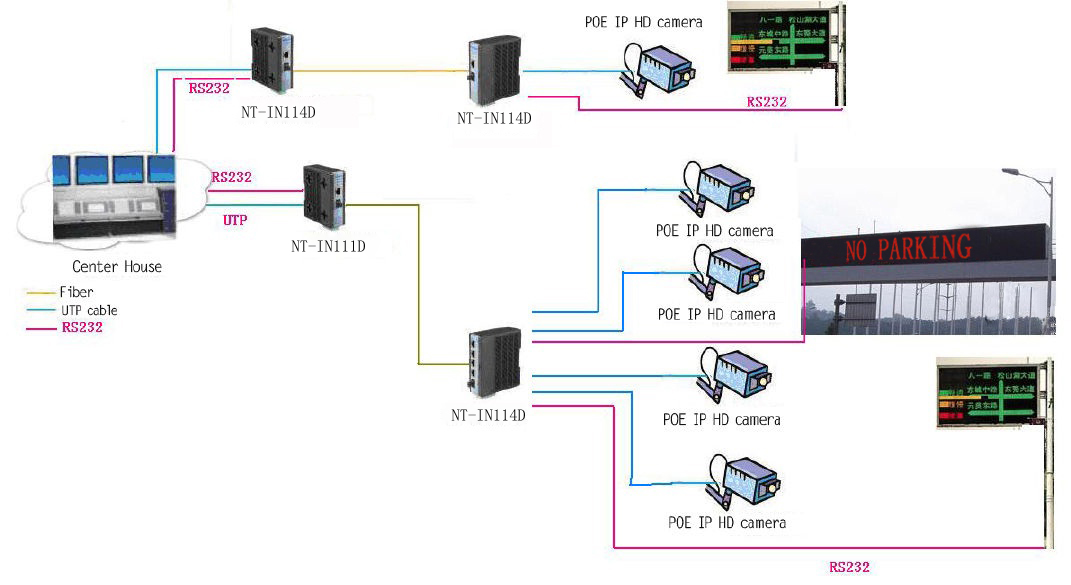 Dimensies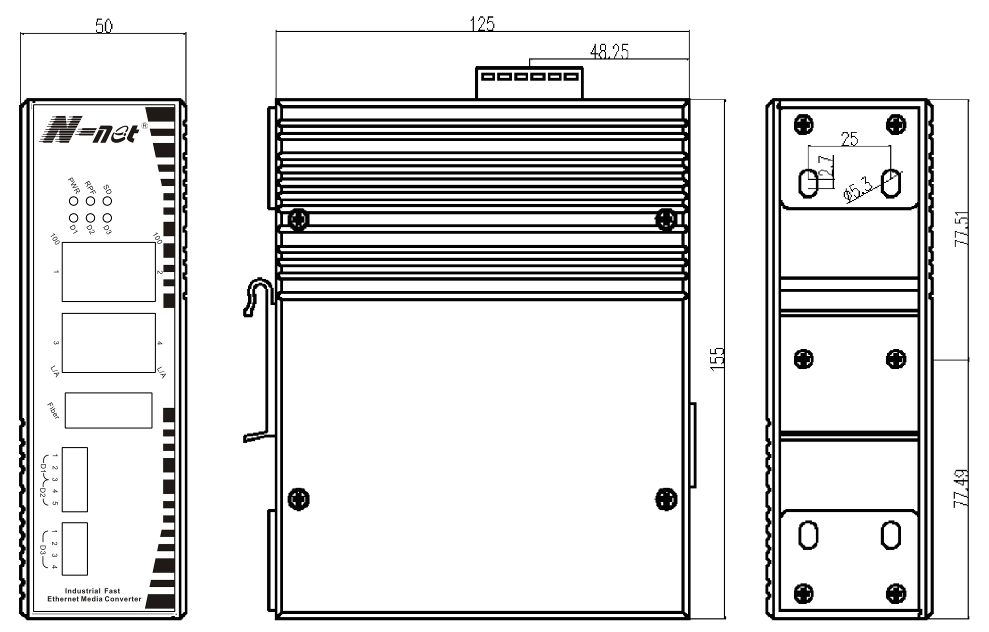 Product Categorie : Industriële Ethernet-switch > Industriële Fast Ethernet-switch