industriële onbeheerde snelle ethernet-switch
De software van het PROFInet-apparaat dekt de volledige looptijdcommunicatie van de veldapparaten.
NT-IN112 industriële onbeheerde snelle ethernet-switch-serie is 10 / 100Base-TX naar 100Base-FX Industriële Fast Ethernet Media Converter met enkele glasvezelpoort en 2 koperen poorten.
De software gebaseerd op het modulaire ontwerp bevat verschillende communicatielagen, die elk consistent zijn met de systeemomgeving.
De converters zijn in staat om de transmissieafstand van het netwerk tot 120 km uit te breiden via een glasvezelpoort en de UTP-poort kan werken op een applicatie van 10M of 100M.
PROFInet-software omvat voornamelijk een RPC-laag (Remote Procedure Call), een DCOM-laag (Distributed Component Object Model) en een laag die specifiek is gedefinieerd voor PROFInet-objecten.
NT-IN112 industriële onbeheerde snelle ethernet-switch-serie is verpakt in een compacte IP40-behuizing die zowel DIN-rail als paneelmontage mogelijk maakt voor efficiënt gebruik van kastruimte.
PROFInet-objecten kunnen ACCO-apparaten (Active Connection Control Object), RT auto-apparaten (Runtime Automation), fysieke apparaten of logische apparaten zijn.
Het biedt een geïntegreerde voeding met een breed scala aan spanningen voor wereldwijd gebruik. Het biedt ook dual-redundante, omkeerbare polariteit 12V DC tot 48V DC voedingsingangen voor toepassingen met hoge beschikbaarheid die dubbele of back-up voedingsingangen vereisen.
Het in de software gedefinieerde realtime datakanaal biedt realtime communicatiediensten tussen PROFInet-objecten en Ethernet.
De NT-IN112 industriële onbeheerde snelle ethernet-switch-serie voldoet aan de IEEE 802.3at High Power over Ethernet-technologie (optioneel).
PROFInet is verbonden met het besturingssysteem (zoals WinCE) via de systeeminterface en verbonden met de controller (zoals PLC) via de applicatie-interface.
Het is achterwaarts compatibel met 802.3af PoE-standaarden zodat gebruikers flexibel standaard- en krachtige apparaten tegelijkertijd kunnen inzetten zonder softwareconfiguratie. Met data en Power over Ethernet uit één unit, kan de NT-IN112 industriële serie onbeheerde snelle ethernet-schakelaars het gebruik van kabels verminderen en de noodzaak van speciale stopcontacten aan de muur, het plafond of een onbereikbare plaats elimineren.
Kenmerken
Ingebouwde efficiënte schakelkern om stroomregeling te implementeren en broadcast-pakketten te verminderen
Standaard: IEEE802.3u 100BASE-FX.IEEE802.3u 100BASE-TX. IEEE802.3 10BASE-T.IEEE802.3x Flow Control.
IEEE802.3at
10 / 100Base-TX kan automatisch de directe lijn en cross-line identificeren, is compatibel met verschillende kaarten, schakelaars, HUB en andere Ethernet-apparaten
Het maakt gebruik van een store-and-forward-mechanisme om pakketverlies en foutframes te voorkomen
Ondersteuning van cut-through transmissie en full-duplex flow control / half-duplex tegendrukmodus
Ondersteuning jumbo frame tot 1552K (store-forward modus)
12V tot 48V DC of 24V AC Brede voedingsingang, redundant vermogen en bescherming tegen omgekeerde polariteit
-40 tot 80 ℃ bedrijfstemperatuur om te voldoen aan een verscheidenheid aan complexe omgevingen
IP40 beschermingsnorm behuizing
Voedingspoort en Ethernet-poort ondersteunen ESD-bescherming en EFT-bescherming
DIN-rail en paneelmontage voor efficiënt gebruik
Ondersteuning van dual-fiber multi-mode, dual-fiber single-mode en single-fiber single-mode fiber-poort selectie, breidde de behoeften van gebruikers uit
Ondersteuning van POE-voeding tot 25,5 W (optioneel)
Specificaties
Parameter

Specifications

Design Level

Industrial grade IP40 design standards

Access mode

10/100Mbps

Standard

Standard: IEEE802.3u 100BASE-FX.IEEE802.3u 100BASE-TX. IEEE802.3 10BASE-T.IEEE802.3x Flow Control. IEEE802.3at

Wavelength

1310nm/1550nm

Transmission distance

Dual-fiber multi-mode:2 km

Single fiber single mode: 20/40/60/80/100 km

Dual-fiber single mode:20/40/60/80/100 /120 km

Category-5 twisted pairs: 100m

Port

Two RJ45 port:

Connecting STP/UTP category-5 twisted pairs, EIA568A/B

One optical port:

Multi-mode :SC / FC/LC(50/125, 62.5/125μm)

Single mode : SC / FC/LC (8.3/125, 8.7/125, 9/125 or 10/125μm)

Conversion means

Store and Forward mode

Address table

2K

Buffer space

Built in 512Kb RAM for data buffer

Flow control

Full duplex: flow control;

Half duplex: back pressure

BER

<10-9

MTBF

50,000 hrs

LED indicator

Power Supply : PWR1 , PWR2

UTP Port: POE(Green), L/A(Orange)

Fiber Port: F1

Power supply

Power Input Range: 12 ~ 48VDC/24VAC ,

6-PIN Terminals, Redundant dual power

Power consumption

<5W (without PSE function)

Operating temperature

-40~80ºC

Operating humidity

5%~90% non-condensing

Storage Temperature

-40~80ºC

Storage humidity

5%~90% non-condensing

Dimensions

140mm (W)×110mm (D)×40mm (H)

Weight
Certification

EMI

FCC Part 15, CISPR (EN55022) class A

EMC

FCC,CE

EMS

EN61000-4-2 (ESD), Level 4

EN61000-4-3 (RS), Level 3

EN61000-4-4 (EFT), Level 4

EN61000-4-5 (Surge), Level 4

EN61000-4-6 (CS), Level 3

EN61000-4-8, Level 5

EN61000-4-11

Shock

IEC 60068-2-27

Free Fall

IEC 60068-2-32

Vibration

IEC 60068-2-6

Green product

RoHS
toepassing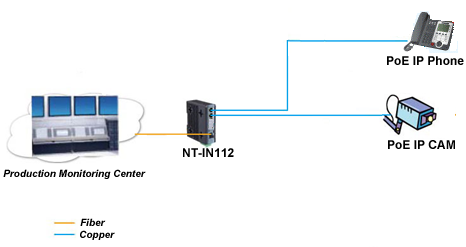 Dimensies
Product Categorie : Industriële Ethernet-switch > Industriële Fast Ethernet-switch