Overzicht van industriële Gigabit Ethernet-switch
Schakelprincipe
Deze inzending werd beoordeeld door het "Encyclopedia of Science Popularisation", het voorbereidings- en toepassingsproject van de wetenschappelijke encyclopedie.
De NT-IN322BF Industrial Ethernet-switch-serie is een industriële standaard 4-poorts Gigabit-switch met dubbele glasvezelredundantie, met 2-poorts 10/100 / 1000BASE-TX Ethernet-poorten en twee extra 100 / 1000Base-FX-glasvezelpoorten.
Een switch is een netwerkapparaat dat wordt gebruikt om elektrische (optische) signalen door te sturen. Het kan een uniek elektrisch signaalpad bieden voor elke twee netwerkknooppunten van de toegangsschakelaar. De meest gebruikelijke switch is een Ethernet-switch.
Het rigoureuze industriële ontwerp maakt het stabiel en betrouwbaar met basisbescherming, en ook flexibel genoeg voor Ethernet-uitbreiding in ruwe industriële omgevingen.
De switch werkt op de tweede laag van het OSI-referentiemodel, de datalinklaag. De switch heeft een backbus met hoge bandbreedte en een interne schakelmatrix, die tegelijkertijd gegevensoverdracht tussen meerdere poortparen kan uitvoeren.
Toen de hoofdvezel kapot ging, kan NT-IN322BF Gigabit onbeheerde industriële siwtch binnen 1 ms overschakelen op redundante glasvezel.
De transmissiemodus van de switch is full-duplex, half-duplex en full-duplex / half-duplex adaptief. [1]
NT-IN322BF De industriële schakelaarserie kan in een rek worden gemonteerd met DIN-rail of op een paneel in de kast worden gemonteerd voor eenvoudige installatie.
Chinese naam Schakelprincipe Buitenlandse naam Schakelprincipe Bedradingsnorm Twisted-pairverbinding, twisted-pair is 8-aderig
Breed scala aan werktemperatuur, back-up van de voeding, IP40-bescherming, LED-indicatoren en compact ontwerp, dit alles maakt de NT-IN322BF tot een perfecte oplossing voor speciale industriële toepassingen.
NT-IN322BF-AT (AF) Industriële Gigabit Ethernet-switch- serie is de POE-versie van NT-IN322BF met twee POE Ethernet-poorten, die POE IP-camera, AP en IP-telefoon via Ethernet-kabel van stroom voorziet. NT-IN322BF-AT (AF) Industriële Gigabit Ethernet-switch ondersteunt IEEE802.3at met 25,5 W uitgang, compatibel met IEEE802.3af.
Industriële Gigabit Ethernet Switch-functies

Redundantie van dubbele glasvezelpoort beschikbaar met DIP-switch
Ingebouwde efficiënte schakelkern om stroomregeling te implementeren en broadcast-pakketten te verminderen
Ondersteund protocol: IEE802.3 10Base-T, IEEE802.3u 100Base-TX / FX, IEEE802.3ab 1000Base-T, IEEE802.3z
1000Base-SX / LX, IEEE802.3x Flow Control, IEEE802.3at PSE
10/100 / 1000Base-TX kan automatisch de directe lijn en cross-line identificeren, is compatibel met verschillende kaarten, schakelaars, HUB en andere Ethernet-apparaten
Neem het store-and-forward-mechanisme om pakketverlies en foutframes te voorkomen
Bieden vier onafhankelijke 10 M / 100 Mbps / 1000 Mbps zelfaanpassende twisted pair-poorten; realiseren Ethernet-poort
redundantie en toegang voor meerdere gebruikers.
Deze industriële Gigabit Ethernet-switch ondersteunt een pakket tot 1536 bytes.
Ondersteuning voor full-duplex flow control / half-duplex tegendrukmodus
12V - 48V DC of 24V AC voedingsingang, redundante voeding en bescherming tegen omgekeerde polariteit
-40 tot 80 ℃ bedrijfstemperatuur om te voldoen aan een verscheidenheid aan complexe omgevingen
IP40 standaard beschermingsbehuizing.
Ondersteunt ESD-bescherming op Ethernet-poort en EFT-bescherming.
Eenvoudige installatie, montagerail of paneelmontage.
Dual fiber multi mode, single mode en WDM single mode glasvezel compatibel.
Ondersteuning van POE-voeding tot 25,5 W (optioneel)
12 Gbps backplane bandbreedte, 1 k MAC-adres automatisch leren en 512 kb interne cache voor databuffer
Specificatie industriële Gigabit Ethernet-switch
Parameter

Specification

Design Level

Industrial IP40 design standards

Access mode

10/100/1000Mbps

Protocols

IEEE802.3 10Base-T,IEEE802.3u 100Base-TX,IEEE802.3ab 1000Base-T,

IEEE802.3z 1000Base-SX/LX,IEEE802.3x Flow Control.IEEE802.3at PSE

Wavelength

850nm/1310nm/1550nm

Transmission distance

Dual-fiber multi-mode:500m

Single fiber single mode: 20/40/60/80/100km

Dual-fiber single mode:20/40/60/80/100km

Category-5 twisted pairs: 100m EIA 568A/B

Port

2 RJ45 ports:

Connecting STP/UTP category-5 twisted pairs, EIA568A/B

2 optical ports:

Multi-mode :SC/FC/LC/ST(50/125, 62.5/125μm)

Single mode : SC/FC/LC/ST (9/125μm)

Conversion

Store and Forward

MAC

1K

Buffer space

512Kb

Flow control

Full duplex: flow control;

Half duplex: back pressure

Time-delay

Store and Forward: max. 9.6μs

BER

<10-9

MTBF

50,000 hours

LED indicator

Power Supply : PWR 1,PWR 2

POE at UTP port: POE1, POE2

Fiber Port: F1,F2

Power supply

Power Input Range: 12 ~ 48VDC/24VAC ,

6-PIN Terminals, Redundant dual power

Power consumption

<5W (without PSE function)

Storage humidity

5%~90% non-condensing

Operating humidity

5%~90% non-condensing
| | |
| --- | --- |
| Parameter | Specification |
| Operating temperature | -40~80℃ |
| Storage Temperature | -40~80℃ |
| Dimension | 140mm(D)×110mm(W)×40mm(H) |
| Weight | |
Certificering van industriële Gigabit Ethernet-switch
EMI

FCC Part 15, CISPR (EN55022) class A

EMC

FCC,CE

EMS

EN61000-4-2 (ESD), Level 4

EN61000-4-3 (RS), Level 3

EN61000-4-4 (EFT), Level 4

EN61000-4-5 (Surge), Level 4

EN61000-4-6 (CS), Level 3

EN61000-4-8, Level 5

EN61000-4-11

Shock

IEC 60068-2-27

Free Fall

IEC 60068-2-32

Vibration

IEC 60068-2-6

Green product

RoHS
Industriële Gigabit Ethernet-switch Productfoto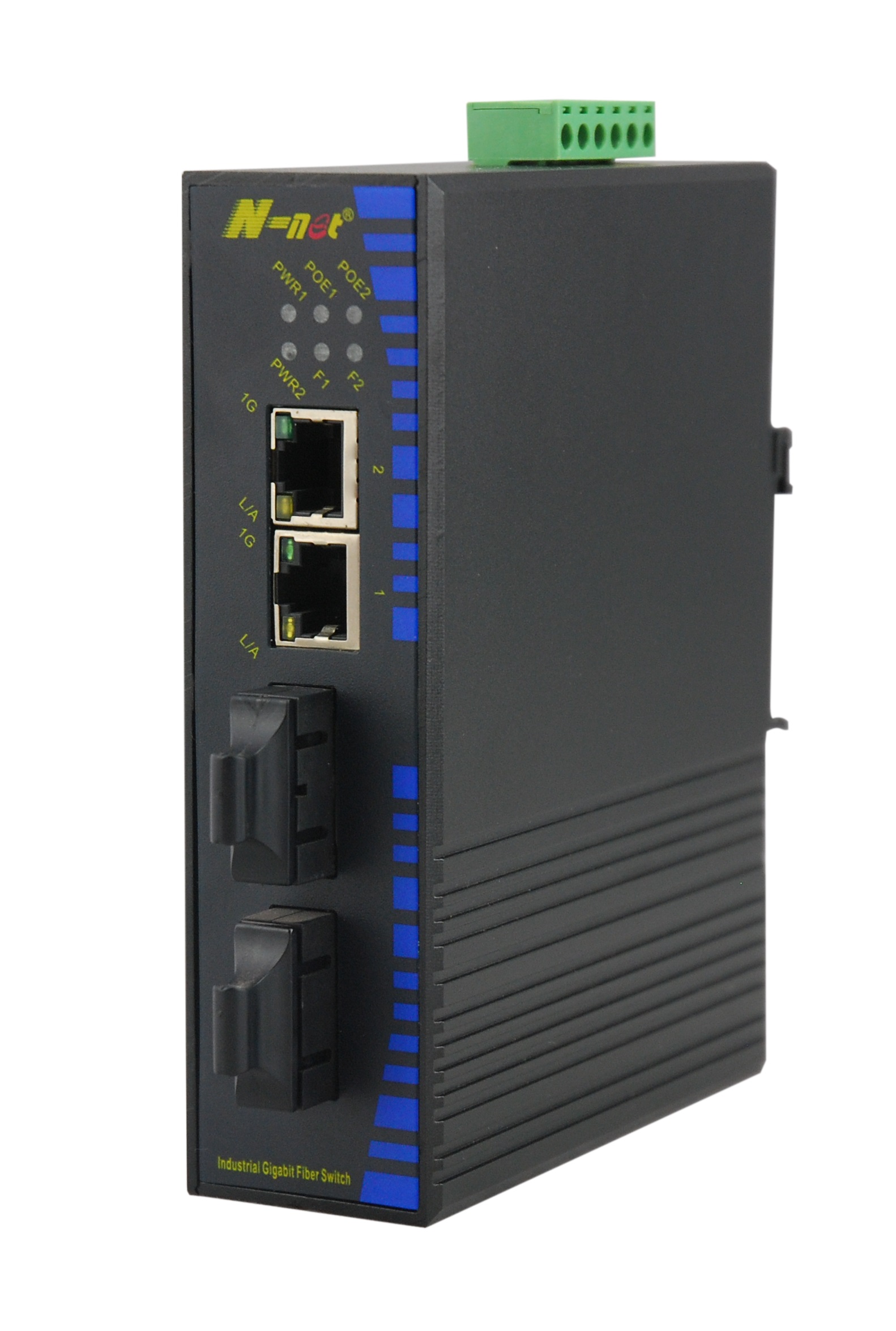 Product Categorie : Industriële Ethernet-switch > Industriële Gigabit Ethernet-switch