Overzicht
-Single kanaal mediaconvertor tussen 10BASE-T / 100Base-TX en 100Base-FX-MT-RJ of SC-interface
-Automatische aanpassing van de twisted pair poortsnelheid en duplexmodus
NT-IN 312 Industrial Gigabit Ethernet Switch serie zijn 2-poorts 10/100 / 1000Base-TX te 1000Base-SX / LX Industrial Fiber Converter. Het verlengt de transmissieafstand van het netwerk tot 100 km via een glasvezelpoort en de UTP-poort kan werken op een toepassing van 10M, 100M, 1000M.
-Automatisch aanpassen aan MDI-Ⅱ en MDI-X
- Voorzie schakelaars om de full / half duplex-modus te configureren
De NT-IN 312 industriële Gigabit Ethernet Switch- serie is verpakt in een speciale compacte IP40 metalen behuizing die montage op DIN-rail of paneel mogelijk maakt voor eenvoudige installatie in de schakelkast. Het biedt een geïntegreerde voeding met een breed scala aan spanningen voor wereldwijd gebruik.
-Store / forward mechanisme
Ondersteunt tegendruk en IEEE802.3x flow control normen
Het biedt ook dual-redundante, omkeerbare polariteit 12V DC tot 48V DC voedingsingangen voor toepassingen met hoge beschikbaarheid die dubbele of back-up voedingsingangen vereisen.
-Volledige doorstuursnelheid met draadsnelheid
-Front panel status-LED indicator
De NT-IN312 Industrial Fibre Switch- serie voldoet aan de IEEE 802.3at High Power over Ethernet-technologie (optioneel).
-Kan gebruikt worden als standalone apparaat of kan gebruikt worden samen met een chassis
- Bij gebruik in combinatie met het chassis, ondersteuning voor hot swap
Het is neerwaarts compatibel met 802.3af PoE-standaarden, zodat gebruikers flexibel standaard- en krachtige apparaten tegelijkertijd kunnen inzetten zonder softwareconfiguratie. Met data en Power over Ethernet uit één unit, zal de NT-IN312 industriële netwerkswitch- serie de kabelinzet verminderen en de noodzaak van speciale stopcontacten aan de muur, het plafond of een onbereikbare plaats elimineren.
Kenmerken
Ingebouwde efficiënte schakelkern om stroomregeling te implementeren en broadcast-pakketten te verminderen
Standard: IEEE802.3 10Base-T, IEEE802.3u 100Base-TX / FX, IEEE802.3ab 1000Base-T, IEEE802.3z 1000Base-SX / LX, IEEE802.3x Flow Control, IEEE802.3at PSE
10/100 / 1000Base-TX kan automatisch de directe lijn (MDI) en dwarslijn (MDIX) identificeren, is compatibel met verschillende kaarten, schakelaars, HUB en andere Ethernet-apparaten
Dit Industrial Fiber Media Converter past een store-and-forward mechanisme om te voorkomen packet loss and error frames
Ondersteuning van cut-through transmissie en full-duplex flow control / half-duplex tegendrukmodus
Jumbo-frames ondersteunen maximaal 1536 bytes
12V tot 48V DC of 24V AC Brede voedingsingang, redundant vermogen en bescherming tegen omgekeerde polariteit
-40 tot 80 ℃ bedrijfstemperatuur om te voldoen aan een verscheidenheid aan complexe omgevingen
Beschermingsstandaard IP40 voor behuizing
Ondersteuning van Ethernet ESD-bescherming en gelijkstroom-EFT-bescherming
DIN-rail en paneelmontage voor eenvoudige installatie
Ondersteuning voor dual-fiber multi-mode, dual-fiber single-mode en single-fiber single-mode fiber-poort selectie, breidde de behoeften van gebruikers uit
12 G schakelaarstructuur, 1K MAC-adres automatisch leren tafel en 512 kb interne gegevensbuffer
Ondersteunt max. 2 PSE-poorten en elke poort kan stroom leveren tot 25,5 W (optioneel)
Ondersteuning SFP fiber module
Specificaties
Parameter

Specifications

Design Level

Industrial grade IP40 design standards

Access mode

10/100/1000Mbps

Standard

IEEE802.3 10Base-T.IEEE802.3u 100Base-TX/FX.IEEE802.3ab 1000Base-T.

IEEE802.3z 1000Base-SX/LX.IEEE802.3x Flow Control. IEEE802.3at PSE

Wavelength

850nm/1310nm/1550nm

Transmission distance

Dual-fiber multi-mode:500km

Single fiber single mode: 20/40/60/80km

Dual-fiber single mode:20/40/60/80/100km

Category-5 twisted pairs: 100m

Port

Two RJ45 ports:

Connecting STP/UTP category-5/6 twisted pairs, EIA568A/B

One optical port:

Multi-mode :SC/FC/LC(50/125, 62.5/125μm)

Single mode : SC/FC/LC (8.3/125, 8.7/125, 9/125 or 10/125μm)

Conversion mechanism

Store and Forward

MAC address table

1K

Buffer space

Built in 512Kb RAM for data buffer

Flow control

Full duplex: flow control;

Half duplex: back pressure

BER

<10-9

MTBF

50,000 hours

LED indicator

Power Supply : PWR 1 , PWR 2

(1~2)UTP Port: POE ,L/A ,1000

Fiber Port: SD

Power supply

Power Input Range: 12 ~ 48VDC/24VAC ,

6-PIN Terminals, Redundant dual power

Power consumption

<5W (without PSE function)

Operating temperature

-40~80ºC

Operating humidity

5%~90% non-condensing

Storage Temperature

-40~85ºC

Storage humidity

5%~90% non-condensing

Dimensions

140mm (W)×110mm (D)×40 mm (H)

Weight
Certificatie
EMI

FCC Part 15, CISPR (EN55022) class A

EMC

FCC,CE

EMS

EN61000-4-2 (ESD), Level 4

EN61000-4-3 (RS), Level 3

EN61000-4-4 (EFT), Level 4

EN61000-4-5 (Surge), Level 4

EN61000-4-6 (CS), Level 3

EN61000-4-8, Level 5

EN61000-4-11

Shock

IEC 60068-2-27

Free Fall

IEC 60068-2-32

Vibration

IEC 60068-2-6

Green product

RoHS
Toepassing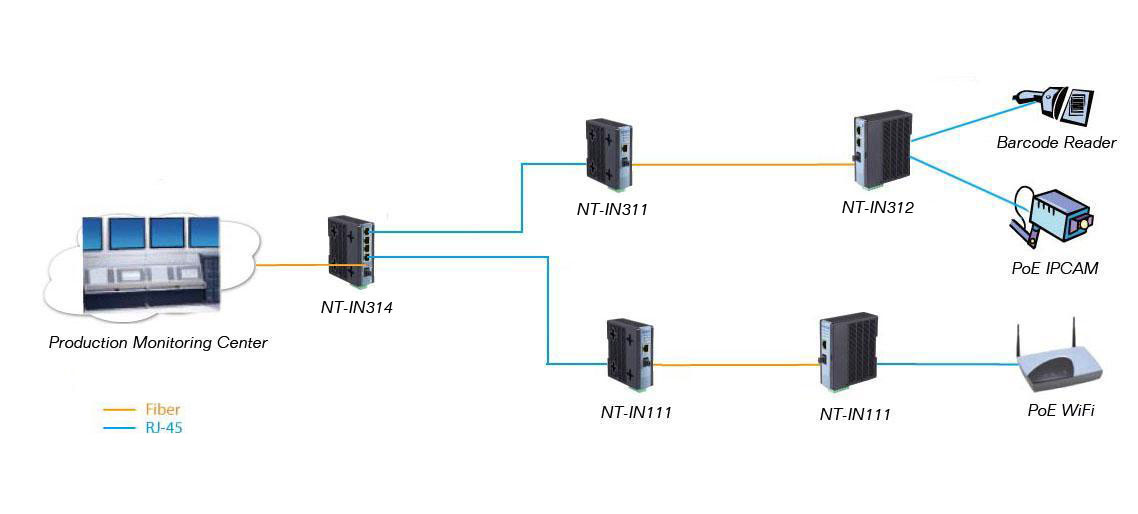 Dimensies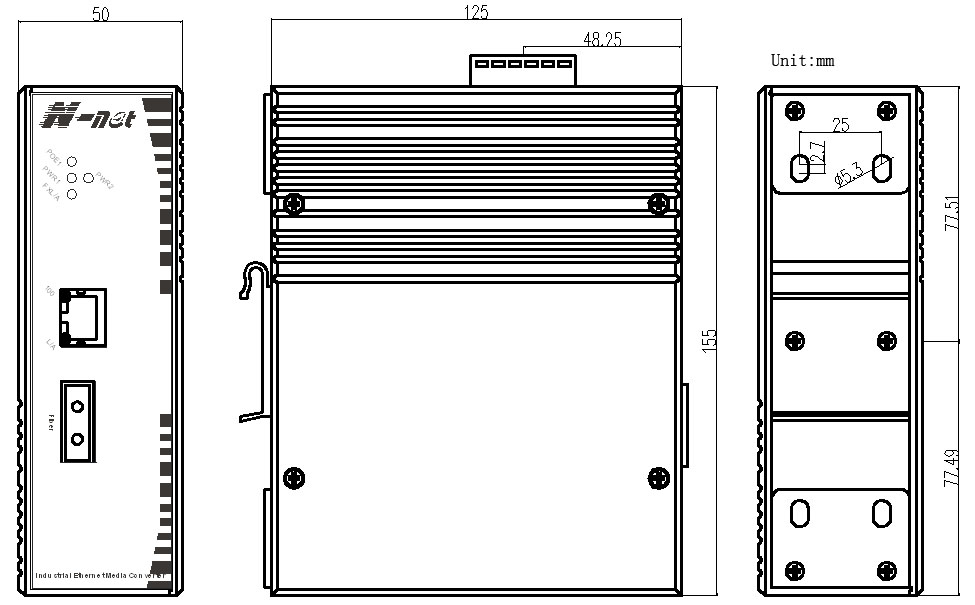 Product Categorie : Industriële Ethernet-switch > Industriële Gigabit Ethernet-switch