Overzicht
POE is ook bekend als een lokaal netwerkgebaseerd voedingssysteem (POL, Power over LAN) of Active Ethernet (Active Ethernet), ook wel power over Ethernet genoemd,
NT-IN311 Industriële Gigabit Media converter-series zijn 10/100 / 1000Base-TX naar 1000Base-SX / LX Indusrtial gigabit media converter. Het vergroot de transmissieafstand van het netwerk tot 100 km via de glasvezelpoort en de UTP-poort kan werken op een toepassing van 10M, 100M en 1000M.
Dit is de nieuwste standaardspecificatie die gebruik maakt van bestaande standaard Ethernet-transmissiekabels om tegelijkertijd gegevens en stroom te verzenden en die compatibel blijft met bestaande Ethernet-systemen en gebruikers.
NT-IN311 Indusrtial gigabit glasvezel-mediaconverterserie is verpakt in een speciale compacte IP40 metalen behuizing die montage op DIN-rail of paneel mogelijk maakt voor eenvoudige installatie in de schakelkast. Het accepteert een geïntegreerde voeding met een breed scala aan spanningen voor wereldwijd gebruik.
De IEEE 802.3af-standaard is een nieuwe standaard die is gebaseerd op de POE van het Ethernet-voedingssysteem. Het voegt gerelateerde standaarden toe voor directe voeding via netwerkkabels op basis van IEEE 802.3. Het is een uitbreiding op de bestaande Ethernet-standaard en de eerste internationale standaard voor stroomverdeling. standaard.
Het kan ook worden uitgerust met dual-redundante, omkeerbare polariteit 12V DC tot 52V DC voedingsingangen voor toepassingen met hoge beschikbaarheid die dubbele of back-up voedingsingangen vereisen.
IEEE begon met het ontwikkelen van de standaard in 1999. De eerste deelnemende fabrikanten zijn 3Com, Intel, PowerDsine, Nortel, Mitel en National Semiconductor. De tekortkomingen van deze standaard hebben echter altijd de uitbreiding van de markt beperkt.
NT-IN311 Indusrtial gigabit media converter-serie voldeed aan IEEE 802.3at High Power over Ethernet-technologie (optioneel). Het is neerwaarts compatibel met 802.3af PoE-standaarden, zodat gebruikers flexibel standaard- en krachtige apparaten tegelijkertijd kunnen inzetten zonder softwareconfiguratie.
Tot juni 2003 keurde IEEE de 802.3af-standaard goed, die duidelijk de vermogensdetectie en -controle bepaalt in externe systemen, en routers, schakelaars en hubs verbindt met IP-telefoons, beveiligingssystemen en draadloze LAN's via Ethernet-kabels De methode voor het leveren van stroom aan apparatuur zoals punten is gespecificeerd.
Met gegevens en Power over Ethernet van één eenheid, zal de NT-IN311 Indusrtial media converter-serie het gebruik van kabels verminderen en de noodzaak van speciale stopcontacten aan de muur, het plafond of een onbereikbare plaats elimineren.
Kenmerken
Ingebouwde efficiënte schakelkern om stroomregeling te implementeren en broadcast-pakketten te verminderen

Standaard: IEEE802.3 10Base-T, IEEE802.3u 100Base-TX / FX, IEEE802.3ab 1000Base-T, IEEE802.3z 1000Base-SX / LX, IEEE802.3x Flow Control, IEEE802.3at PSE
10/100 / 1000Base-TX kan automatisch de direct-line (MDI) en cross-line (MDIX) identificeren, is compatibel met verschillende kaarten, schakelaars, HUB en andere Ethernet-apparaten
Het past een store-and-forward-mechanisme toe om pakketverlies en foutframes te voorkomen
Ondersteuning van draadsnelheidstransmissie en full-duplex flow control / half-duplex tegendrukmodus
Jumbo-frames ondersteunen maximaal 1536 bytes
12V tot 52V DC of 24V AC Brede voedingsingang, redundant vermogen en bescherming tegen omgekeerde polariteit
-40 tot 80 ℃ bedrijfstemperatuur om te voldoen aan een verscheidenheid aan complexe omgevingen
Beschermingsstandaard IP40 voor behuizing
Voedingspoort en Ethernet-poort ondersteunen ESD-bescherming en EFT-bescherming
DIN-rail en paneelmontage voor eenvoudige installatie.
Ondersteuning voor dual-fiber multi-mode, dual-fiber single-mode en single-fiber single-mode fiber-poort selectie, breidde de behoeften van gebruikers uit
Ondersteuning van POE-voeding tot 25,5 W (optioneel)
Ondersteuning van SFP-glasvezelmodule
Specificaties
Parameter

Specifications

Design Level

Industrial grade IP40 design standards

Access mode

10/100/1000Mbps

Standard

IEEE802.3 10Base-T, IEEE802.3u 100Base-TX/FX, IEEE802.3ab 1000Base-T, IEEE802.3z 1000Base-SX/LX, IEEE802.3x Flow Control, IEEE802.3at PSE

Wavelength

850nm/1310nm/1550nm

Transmission distance

Dual-fiber multi-mode:500km

Single fiber single mode:20/40/60/80km

Dual-fiber single mode:20/40/60/80/100km

Category-5 twisted pairs:100m

Port

One RJ45 port:

Connecting STP/UTP category-5/6 twisted pairs, EIA568A/B

One optical port:

Multi-mode :SC/FC/LC(50/125, 62.5/125μm)

Single mode : SC/FC/LC (8.3/125, 8.7/125, 9/125 or 10/125μm)

Conversion mechanism

Store and Forward

MAC address table

1K

Buffer space

Built in 512Kb RAM for data buffer

Flow control

Full duplex: flow control;

Half duplex: back pressure

BER

<10-9

MTBF

100,000 hours

LED indicator

Power Supply : PWR 1 , PWR 2

UTP Port: POE, L/A ,1000

Fiber Port: SD

Power supply

Power Input Range: 12 ~ 48VDC/24VAC ,

6-PIN Terminals, Redundant dual power

Power consumption

<4W (without PSE function)

Operating temperature

-40~80ºC

Operating humidity

5%~90% non-condensing

Storage Temperature

-40~85ºC

Storage humidity

5%~90% non-condensing

Dimensions

140mm (W)×110mm (D)×40 mm (H)
Ap plicatie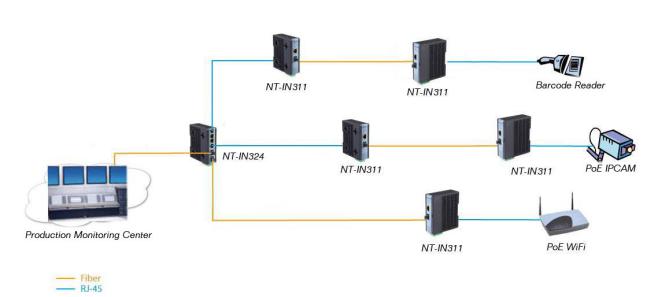 Inpakken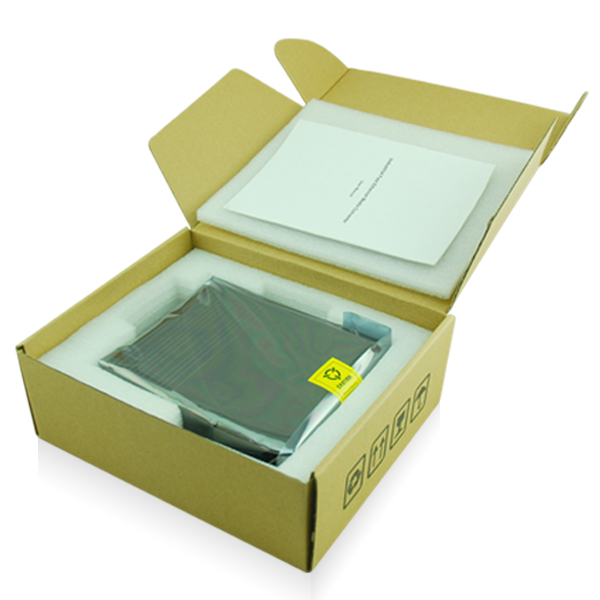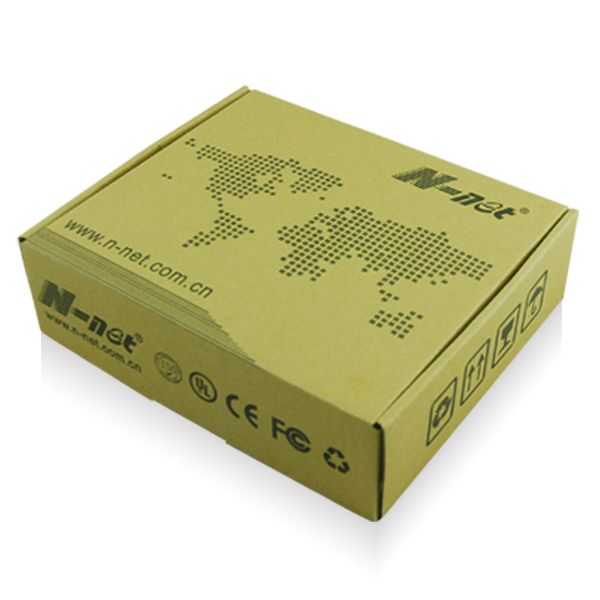 Product Categorie : Industriële media-omzetter > Industriële Gigabit Media Converter