Overzicht
Zendontvangers van optische vezels hebben de voordelen van het bieden van datatransmissie met ultralage latentie, volledig transparant voor netwerkprotocollen, meestal met behulp van speciale ASIC-chips voor het doorsturen van gegevenslijnen, apparaten die een 1 + 1 voedingsontwerp gebruiken, enz.,

De NT-MG1500 biedt razendsnelle pakketoverdrachtprestaties met 12 Gbps non-blocking switch fabric, 8k MAC Address table en 802.3x Full-Duplex flow control.
ondersteuning van ultrabrede voedingsspanning, Realiseer stroombeveiliging en automatisch schakelen.
De NT-MG1500 kan worden geprogrammeerd voor basisfuncties voor switchbeheer, zoals duplexinstellingen voor poortsnelheid, poorttrunking, VLAN, poortspiegeling, Rapid Spanning Tree, enz.
Tegelijkertijd ondersteunt het een ultrabreed bedrijfstemperatuurbereik en een volledige transmissieafstand van 0 tot 120 kilometer.

Daarnaast bevat de firmware geavanceerde functies zoals IGMP-snooping, QoS (Quality of Service), broadcast storm en bandbreedtebeheersing, om het bandbreedtegebruik te verbeteren.
Single-mode transceivers hebben een bereik van 20 kilometer tot 120 kilometer. Opgemerkt moet worden dat door de verschillende transmissieafstanden ook het zendvermogen, de ontvangstgevoeligheid en de golflengte van de optische vezelzendontvanger zelf verschillend zullen zijn.

NT-MG1500 ondersteunt het standaard Simple Network Management Protocol (SNMP) en kan worden bewaakt via elke op standaard gebaseerde beheersoftware. Deze functies bieden een kosteneffectieve manier om het apparaat vanaf internet te beheren wanneer u aan het werk of thuis bent.
Het zendvermogen van een 20 km lange optische-vezelzendontvanger ligt bijvoorbeeld over het algemeen tussen -15 en -7dB en de ontvangstgevoeligheid is -30dB, met een golflengte van 1310 nm; terwijl het zendvermogen van een 120km optische vezel zendontvanger gewoonlijk tussen -5 en 0dB ligt, gebruikt de ontvangstgevoeligheid voor -38dB een golflengte van 1550nm.

Belangrijk kenmerk
Voldoet aan IEEE 802.3 10Base-T, IEEE 802.3u 100Base-TX, IEEE 802.3ab 1000Base-T,
IEEE 802.3z 1000Base-SX / LX Ethernet-standaard
5-poorts 10/100/1000 Mbps Gigabit Ethernet-poorten met 1-poorts glasvezelpoort
Auto-MDI / MDI-X-detectie op elke RJ-45-poort ondersteunt CSMA / CD-protocol
Voorkomt pakketverlies met tegendruk (Half-duplex) en 802.3x PAUSE framestroomregeling (Full-duplex)
8K MAC-adrestabel, automatisch leren van bronadressen en veroudering
12 Gbps switch fabric, niet-blokkerende switch-architectuur
9K Jumbo Frame ondersteunt op alle snelheden (10/100/1000 Mbps)
Ondersteunt poortgebaseerde en 802.1Q VLAN-functie, tot 64 VLAN-groepen
Ondersteunt IEEE 802.1w Rapid-Spanning Tree-protocol (RSTP)
Link Aggregation ondersteunt statische modus en LACP (IEEE 802.3ad) - maximaal 4 trunk-groepen, elke trunk is maximaal 6 poorten
IGMP Snooping voor multicast-filtering, ondersteunt v1 en v2
Ondersteuning van DHCP-optie 60 en optie 82
Multicast en Broadcast Storm Control en Flooding Control
Port Mirroring-ondersteuning voor speciale poortbewaking
802.1X Port-Base toegangscontrole, RADIUS-serververificatie
Statisch MAC-adres wijst het bestemmings-MAC-adres toe aan de specifieke poort
Externe webbeheerinterface
Firmware-upgrade via webinterface
Cable Diagnostics-technologie
Ondersteunt SNMPv1 met RFC-1213/1573-interfacegroep en RMON Group 1 (statistieken) SNMP-trap
Specificatie
Parameter

Specifications

Access mode

10/100/1000Mbps Gigabit Ethernet

Standards

IEEE 802.3 10BASE-T

IEEE 802.3u 100BASE-TX

IEEE 802.3ab Gigabit 1000Base-T

IEEE 802.3z Gigabit 1000Base-SX/LX

IEEE 802.3x Flow Control

IEEE 802.3ad Port trunk with LACP

IEEE 802.1d Spanning tree protocol

IEEE 802.1w Rapid spanning tree protocol

IEEE 802.1p Class of service

IEEE 802.1Q VLAN Tagging

IEEE 802.1x Port Authentication Network Control

Copper Ports

5-port 10/ 100/1000Base-T RJ-45 Auto-MDI/MDI-X ports

Wavelength

850nm/1310nm/1550nm

Transmission distance

Multi-mode Dual-fiber: 220m (62.5/125μm)/550m (50/125μm)

Single mode Dual-fiber: 20/40/60/80/100km(9/125μm)

Single mode single-fiber: 20/40/60km(9/125μm)

Category-5 twisted pairs: 100m

Port

Five RJ45 port:

Connecting with STP/UTP category-5/5e twisted pairs, EIA568A/B

One optical port:

Multi-mode Dual-fiber: SC/LC(SFP) (50, 62.5/125μm)

Single mode Dual-fiber: SC/FC/LC(SFP) (9/125μm)

Single mode Single-fiber: SC/FC (9/125μm)

Switch Fabric

12Gbps / non-blocking

Switch Throughput

8.9Mpps

Address Table

8K MAC address table with Auto learning function

Share Data Buffer

136K bytes on chip

Flow Control

Back pressure for Half-Duplex

IEEE 802.3x Pause Frame for Full-Duplex

Jumbo Frame

Max to 9K Bytes
Management Interface

Web Browser, SNMPv1, v2c monitor and SNMP Trap

VLAN

Port-Based / 802.1Q Tagged Based VLAN,

Up to 64 VLAN groups

Link Aggregation

Supports 4 groups of 8-Port trunk,

IEEE 802.3ad LACP

QoS

Traffic classification based on 802.1p priority,

DSCP field in IP Packet

IGMP Snooping

IGMP (v1/v2) Snooping, up to 64 multicast groups

SNMP MIBs

RFC-1213 MIB-2

RFC-1573-Interface MIB

RFC-2819 RMON MIB(Group 1)

LED

Power, 1000 Link/Act, 100/10 Link/Act per port

Power Requirement

100 - 240VAC 50~60Hz, 40~57VDC

Power Consumption

6 watts

Temperature

0~50 ℃

Humidity Operating

5~95%(non-condensing)

Dimensions

217mm x 135mm x 43.5mm (W x D x H)

Weight

0.5kg

6-poorts Smart Gigabit-switch met 1 glasvezelpoort
NT-MG1500-serie
Toepassingen
FTTx-schakelaar
Met 1gigabit glasvezelinterfaces, om een ​​netwerkoplossing van FTTH (Fibre to the Home) of FTTC (Fibre to the Curb) voor ISP's en FTTB (Fibre to the Building) voor bedrijven te bouwen, zijn de verschillende afstanden van de glasvezelpoort optioneel voor klanten. Voor beveiliging en toepassingen kunnen de 5 Gigabit-poorten worden geconfigureerd met VLAN-instellingen en verbinding maken met verschillende units, kantoren, gebouwen, huizen en afdelingen. En NT-MG1500 is een brede toepassing in de Europese FTTH-markt.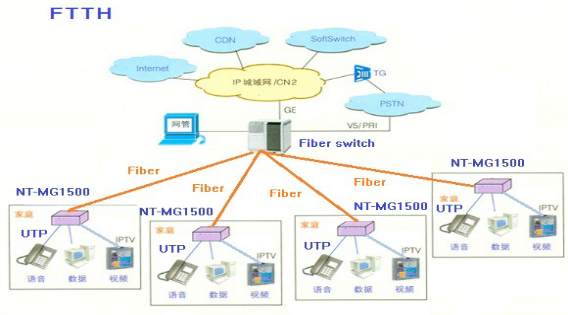 informatie ordenen
NT-MG1500 6-poorts 10/100/1000 Mbps Web Smart Gigabit Ethernet-switch
Product Categorie : Industriële media-omzetter > Industriële Gigabit Media Converter