N-net 24 SFP-poorten Managed Ethernet Switch
NT-35M24F4GC Ethernet-switch is een krachtige, door L2 beheerde switch voor netwerkbeheer. Gebaseerd op industriële netwerkspecifieke switching-chip als kern, is de belangrijkste toepassing ondersteuning voor Ethernet-tweelaagsuitwisseling voor de bouw van het campusnetwerk, of met de speciale software (optioneel, authenticatie en facturering) voor Ethernet-toegang of mobiele breedbandaggregatie apparatuur. Ondersteuning 24 100Base-FX SFP-interface en 4 Gigabit uplink COMBO-poort (glasvezelpoort en Ethernet-poort is optioneel).
Deze glasvezelschakelaar met 24 poorten kan worden toegepast op het campusnetwerk, bedrijfsnetwerk en residentiële gemeenschappen, breedbandtoegang via internet, klein kantoornetwerk, toepassingsomgeving voor netwerkvideobewaking, completeren de multi-user toegang voor meerdere gebruikers via een paar of een optische glasvezelbus vereenvoudigd is, zal de toegangslaag van de netwerkstructuur, waardoor investeringen in apparatuur worden bespaard, het netwerk de cyclus aanzienlijk verkorten en de bouwkosten en onderhoudskosten verlagen, kostenbesparende toegangsoplossingen voor glasvezeloverdracht.
Beheerde Fast Ethernet Switch- functies
24x 10 / 100Mbps downlink glasvezel Ethernet-poorten, 2x 10/100 / 1000Mbps uplink Ethernet-poorten en 2x1000Mbps uplink SFP-poorten of 4x 1000M Gigabit Ethernet COMBO-poorten

IEEE 802.3, IEEE 802.3u, IEEE802.3ab, IEEE802.3x, IEEE802.3z

compatibel met verschillende Ethernet-apparaten

Ondersteuning van L2 + Switching-functies, waaronder 802.1Q VLAN, Port Mirroring, Port Isolation, IGMP Snooping,

DHCP Snooping, DHCP Relay, LACP, IP Source Guard, ARP inspectie, ACL's etc.

Store-and-forward-mechanisme wordt gebruikt om pakketverlies en foutframes te voorkomen

Ondersteuning voor boomstructuur STP (802.1D) en RSTP (802.1W) en MSTP (802.1S)

Ondersteuning van IP / Port / Mac-binding.

Jumbo-frames ondersteunen maximaal 9,6 K kilobtys

Ondersteuning verbeterd beheer via WEB, CLI, SSH, SNMP.

Ingebouwde 1U-rackvoedingsreeks, eenvoudige installatie

Instructie
1. Frontpaneel heeft 33 poorten, biedt 24x 10 / 100Mbps downlink-vezel Ethernet-poorten, 2x 10/100 / 1000Mbps uplink Ethernet-poorten of 2x 1000Mbps uplink SFP-poorten; of 4x 1000M Gigabit Ethernet COMBO-poorten en 1x
2. LED-indicatiestatus:
Power: 1 groen licht geeft aan dat de power normaal werkt;
Ethernet: 28 groene lampjes geven aan dat de Ethernet Link en Act
Ethernet: 28 groene lampjes geven aan dat de Ethernet-snelheid.
Installatie stap
Controleer het onderstaande apparaat en accessoires voor installatie. Neem contact op met uw leverancier als deze ontbreken.
1. Vezelschakelaar 1 ST
2. Handleiding 1 ST
◆ Schakel de signaalbron en de stroom van het apparaat uit voordat u installeert. Installatie met stroom kan het apparaat beschadigen;
◆ Gebruik 24 netwerkkabels om 24 industriële switches aan te sluiten op de 1 ~ 24 glasvezelpoort van de Ethernet-switch;
◆ Gebruik de netwerkkabel om de UPLINK-poort van de Ethernet-switch te verbinden met NVR of een ander apparaat;
◆ Verbind Ethernet-schakelaar met stroomadapter;
◆ Controleer of de installatie correct is en het apparaat goed is, zorg ervoor dat alle verbindingen betrouwbaar zijn en stroom leveren voor het systeem;
◆ Zorg ervoor dat elk netwerkapparaat stroomvoorziening heeft en normaal werkt.
Beheerde 10 / 100M Ethernet Switch-toepassing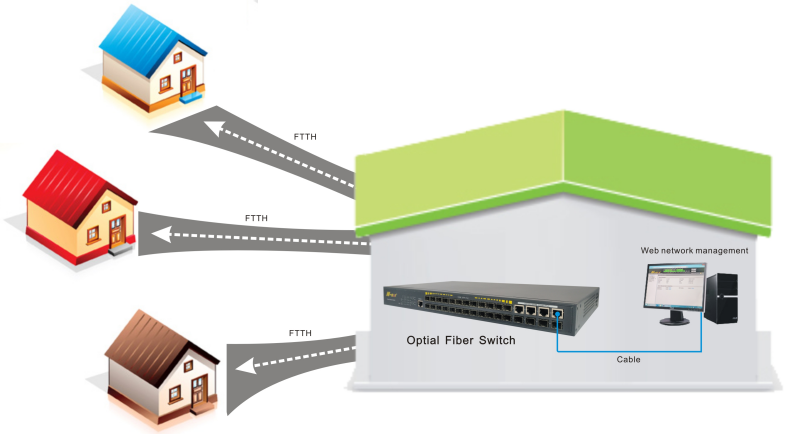 Toepassing 2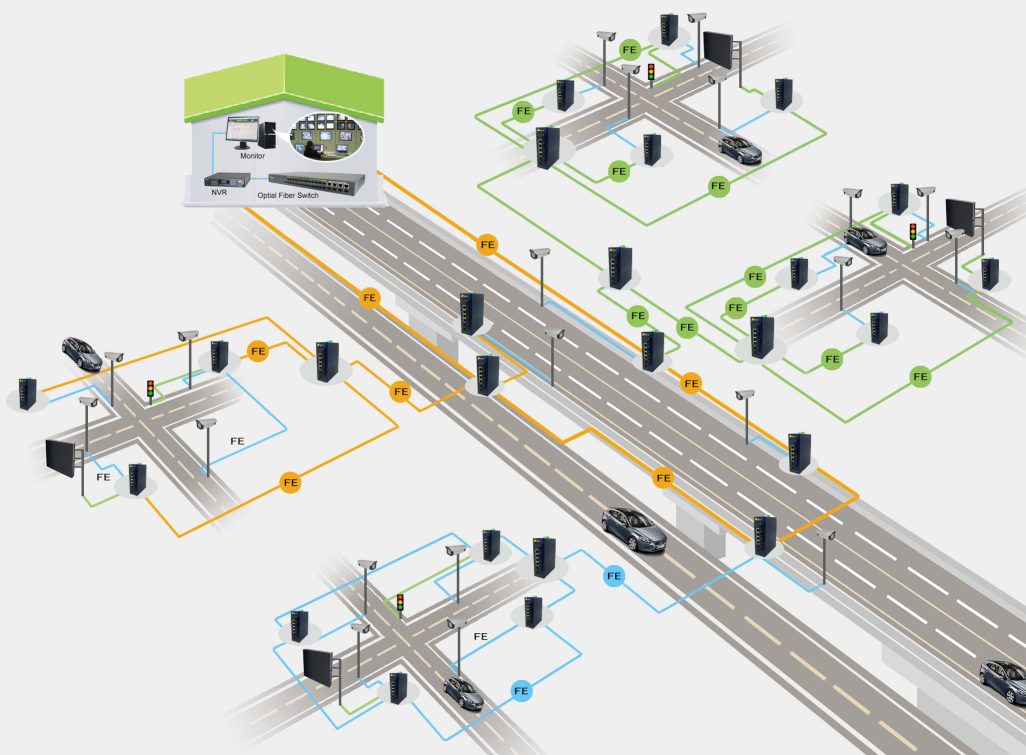 order informatie
| | |
| --- | --- |
| Model | Description |
| NT-35M16F4GC | Fast Ethernet fiber Switch, (16) 10/100Mbps downlink fiber Ethernet Ports, (4) 10/100/1000Mbps uplink Ethernet Ports, and (4) 1000Mbps uplink SFP Ports. |
| NT-35M24F4GC | Fast Ethernet fiber Switch, (24) 10/100Mbps downlink fiber Ethernet Ports, (4) 10/100/1000Mbps uplink Ethernet Ports, and (4) 1000Mbps uplink SFP Ports, |
Product Categorie : Industriële media-omzetter > Industriële Gigabit Media Converter