Visie:
Ringredundantie is een snelle redundantietechnologie van Ethernet.

N-NET NT-MIN1042GF is een industriële Ring Ethernet-switch , uitgerust met 2 1000base-X SFP-interface, 4 10 / 100base-T (X) -poort.
Deze technologie kan er niet alleen voor zorgen dat het netwerk binnen 300 milliseconden kan herstellen wanneer het een storing tegenkomt (wanneer het wordt gebruikt in meer dan 20 schakelaars), maar het kan ook een alarm verzenden via een foutrelais, indicator of SNMP wanneer de ringlink is kapot.

Ondersteuning van industrieel ringprotocol "NT-Ring", 2 Gigabit-poorten creëren effectief Gigabit zelfherstellende ringredundantie (zelfhersteltijd <20 ms), beschermingsklasse, industriële kwaliteit vier in overeenstemming met EMC-vereisten, geleiderailtype of wandmontage, STP , RSTP-protocol.
Zodra het ringnetwerk is losgekoppeld, stuurt de indicator een alarm naar de losgekoppelde schakelaar, activeert het zijn statusrelais en koppelt de foutmelding via SNMP terug aan de gebruiker.

deze industriële POE-switch voldoet aan de eisen van het industriële veld voor de betrouwbaarheid en uitvoerbaarheid van het netwerksysteem.
Een ringnetwerk gebruikt een continue ring om elk apparaat met elkaar te verbinden.

Het betrouwbare hardware-ontwerp is vooral geschikt voor industriële communicatietoepassingen die een continue werking vereisen.
Het kan ervoor zorgen dat het signaal dat door één apparaat wordt verzonden, kan worden gezien door alle andere apparaten op de ring.

Voorzien zijn van:
4x 10 / 100Base-TX (ondersteuning voor IEEE802.3af / bij standaard), 2x 1000Base-x SFP

Deze

industriële Ethernet-switch

Kan elke POE-poort beheren via webbeheer en voeding voor

Elke POE-poort tot 15,4 W / 30 W.

Deze industriële poe-beheerde switch ondersteunt N-NET-patentprotocol [NT-Ring "(hersteltijd <20 ms), STP RSTP,

MSTP, Ethernet redundant.

Deze industriële switch ondersteunt SNMPv3, IEEE802.1X, HTTPS en SSH, verhoogt de ne2xrk-beveiliging

Deze

industriële Fibre Switch

ondersteunt beheerde methoden van WEB, CLI, Telnet / seriële console, Windows-hulpprogramma

En SNMP, IGMP Snooping en GMRP filteren multicast-verkeer

4KV EFT-bescherming en 6KV ESD-bescherming

MTBF boven 100.000 uur

Dubbele voeding (DC46V ~ DC54V) voor redundantie

Volledig aluminium industrieel koelsysteem zonder ventilator

Thermisch via, IP40-bescherming

Werktemperatuur -40 ~ + 80 ° C

Ondersteuning din-rail / desktop / wandmontage

Bliksembeveiliging: de voedingsinterface heeft een niveau

4x bliksembeveiligingsontwerp
Specificatie
technical parameter

Standard:IEEE802.3,IEEE802.3u, IEEE802.3ab ,IEEE802.3x, IEEE802.1D(STP),

IEEE802.1w(RSTP),IEEE802.1Q(Vlan Tagging),IEEE802.1p(QoS)

Protocol:NT-Ring.IGMP v1/v2.GVRP.SNMP v1/v2/v3 .DHCP Client.TFTP.SMTP.RMON.LLDP.HTTP.SSH.Telnet.SNTP Server/Client,.

Flow control:IEEE802.3x(Flow control).Back Pressure

function

Switch function:NT-Ring.POE+.RSTP.SNMP.QOS.802.1Q VLAN. Port Trunking.Static multicast filtering.Bandwidth management.Broadcast storm.Port traffic statistics.Online upgrade.Upload and download profiles,User name login system, etc.

NT-Ring: Support Single, couple, Chain, Dual homing etc. ring network structure.

Interface

Fast port:1X4 10Base-T/100Base-TX adaptive,RJ45 port.

Gigabit port:1X2 1000Base-X SFP fiber port.

Rs232 port number:1 RS-232 Control port, baud rate:57600bps

transmission distance

RJ45:100M(Standard CAT5/CAT5e cable)

Multimode fiber:1310nm,2KM

single mode fiber:1310nm,20/40/60Km

1550nm,20/40/60/80/100/120Km

Switch attribute

Fast forwarding speed:0.1488Mpps

Gigabit forwarding speed:1.488Mpps

Vlan number:256 VLan ID:1~4096 Multicast group number:256

transmission mode:Store and forward.

System switching bandwidth:4.8G

MAC address table:8K

Buffer:1Mbit Frame buffer.

Standard certification

EMI:

FCC CFR47 Part 15,EN55022/CISPR22,Class A

EMS:

IEC61000-4-2(ESD) ±8kV(contact), ±15kV(air)

IEC61000-4-3(RS) 10V/m(80MHz~2GHz)

IEC61000-4-4(EFT) Power Port: ±4kV; Data Port:±2kV

IEC61000-4-5(Surge) Power Port: ±2kV/DM, ±4kV/CM; Data Port:±2kV

IEC61000-4-6(CS) 3V(10kHz~150kHz);10V(150kHz~80MHz)

IEC61000-4-16(common mode conduction) 30V(cont.),300V(1s)

Mechanics:

IEC60068-2-6, IEC60068-2-27, IEC60068-2-32

Industry:

IEC61000-6-2

Railway:

EN50155,EN50121-4

Traffic control:

NEMA TS-2

LED indicator light

System indicator:SYS

Interface indicator:The green light is 100M,Off is 10M. Yellow light is light and blink for port link-up status,Transmitting and receiving data,Off is link-down status.

Power Supply

Input voltage:18~36VDC

Input mode:Plug in type 6 core 5.08mm spacing terminal

Support redundancy function for dual power supply

work environment

Operating temperature range:-40~75℃

Storage temperature range:-40~85℃

Outer case:IP40 protection grade, corrugated high strength metal case

Installation method: guide rail type.
Productfoto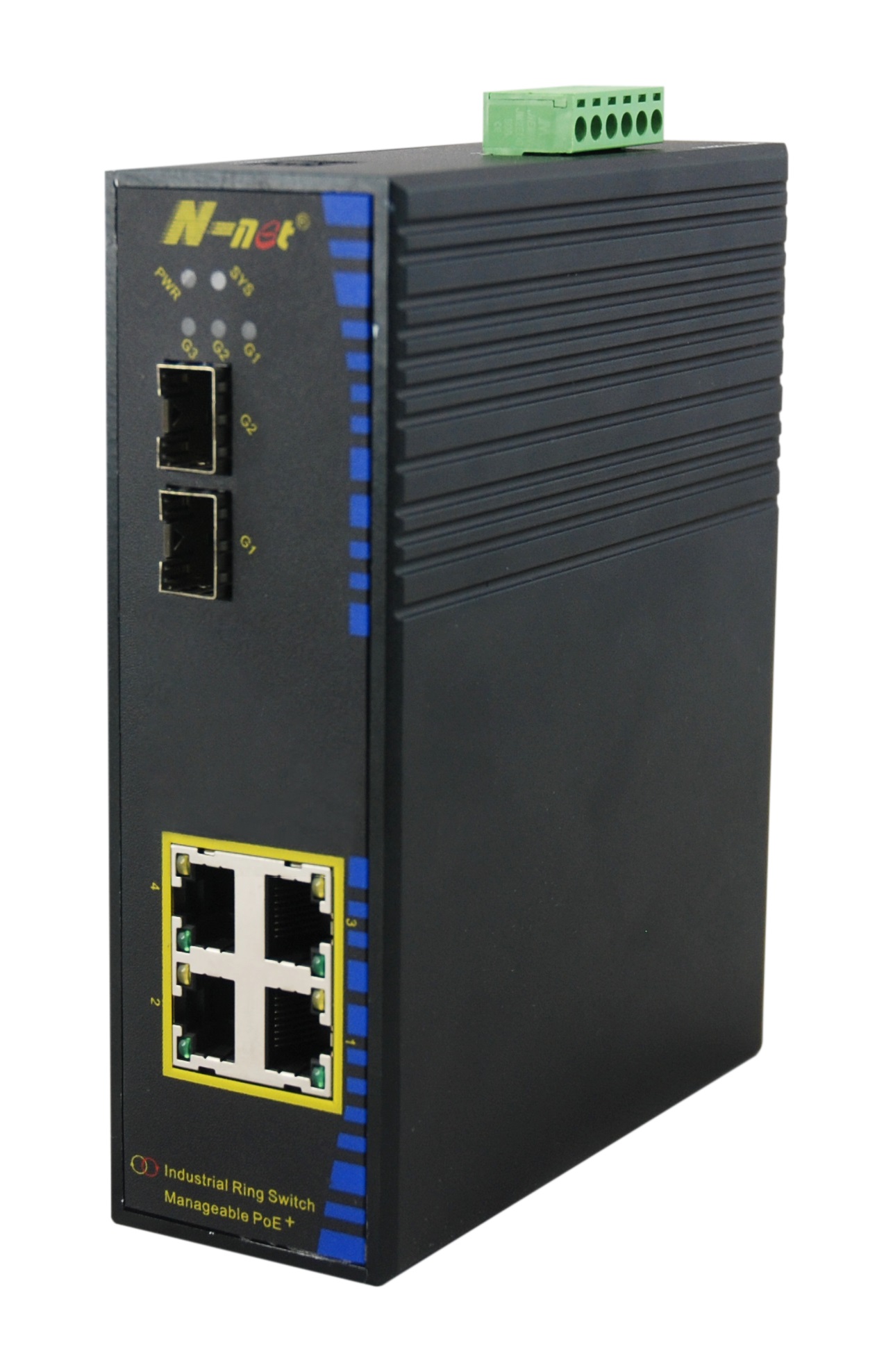 Product Categorie : Industriële Ethernet-switch > Industriële Ring Ethernet-switch