N-net L2 + Beheerde 48-poorten Gigabit-switch met 4 SFP + slots
NT-50MG48T4XGF is een L2 + managed switch met 48 poorten 10/100 / 1000M Ethernet-poorten en 4 10G SFP + slots met modulaire ventilatoren en voedingen voor een architectuur met hoge beschikbaarheid. Deze Ethernet-switch bevat de Standard Image (SI) -software en voor extra functionaliteit kunnen ze worden geüpgraded naar de Enhanced Image (EI) -software met een afzonderlijk bestelde licentie-upgrade. De standaardafbeelding biedt de belangrijkste SMB- en MKB-functionaliteit, zoals L2-switching, entry-level routing, L2 multicast, geavanceerde Quality of Service (QoS), Operations, Administration and Maintenance (OAM) en robuuste beveiligingsfuncties.
Functies van beheerde netwerkswitch :
1. Ingebouwde efficiënte schakelkern om flow control te implementeren en broadcast-pakketten te verminderen
2. Standaardconformiteit: IEEE802.3-advertentie, link aggregation protocol
IEEE 802.3, 10BASE-T Ethernet
IEEE 802.3u, snelle Ethernet-standaard
IEEE, 802.3ab, Gigabit Ethernet-standaard
IEEE, 802.3z, Gigabit Ethernet optische vezelstandaard
IEEE, 802.3ae, 10G Ethernet-standaard
IEEE, 802.3x, full duplex Ethernet datalink-laag stroomregeling
IEEE, 802.3az, EEE energiezuinige Ethernet-normen
IEEE, 802.1AB, LLDP-protocol
IEEE, 802.1D, STP-protocol
IEEE, 802.1Q, VLAN-normen
3. Store-and-forward-mechanisme wordt gebruikt om pakketverlies en foutframes te voorkomen
4. 10/100 / 1000Mbps automatische onderhandeling en automatische MDI / MDI-X, compatibel met verschillende Ethernet-apparaten
5. Ondersteuning van L2 + Switching-functies, waaronder 802.1Q VLAN, Mirroring, poortisolatie, IGMP Snooping,
DHCP Snooping, LLDP, POE + management, IP Source Guard, ARP inspectie, ACL's etc.
6. Ondersteuning van boomstructuur STP (802.1D) en RSTP (802.1W).
7. G.8032, ondersteuning van <50ms industriële snelringbeveiliging
8. Ondersteuning verbeterd beheer via WEB, CLI, TELNET, SSH, SNMP.
9. -20 ºC Tot 70 ºC bedrijfstemperatuur om te voldoen aan een verscheidenheid aan complexe omgevingen
Netwerk Switch Instructie :
1. Frontpaneel heeft 53 poorten, biedt 48x 10/100 / 1000Mbps downlink Ethernet-poorten, 4x 10G uplink SFP + poorten,
en 1x consolepoorten.
2. LED-indicatiestatus:
PWR: 1 Groen licht geeft aan dat het vermogen normaal werkt;
SFP +: 4xblauwe lichten geven aan dat de SFP + -poorten zijn ingeschakeld
SYS: 1 Groene lampjes geven de systeemstatus aan.
Ethernet: 48 gele lampjes geven 10 / 100M Ethernet-verbinding en snelheid aan;
Ethernet: 48 groene lampjes geven 10 / 100M / 1000M Ethernet-verbinding en snelheid aan;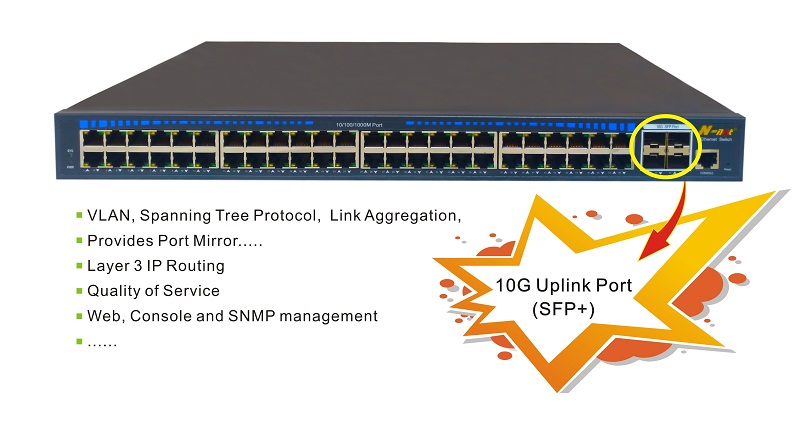 L2 Managed Switch-toepassing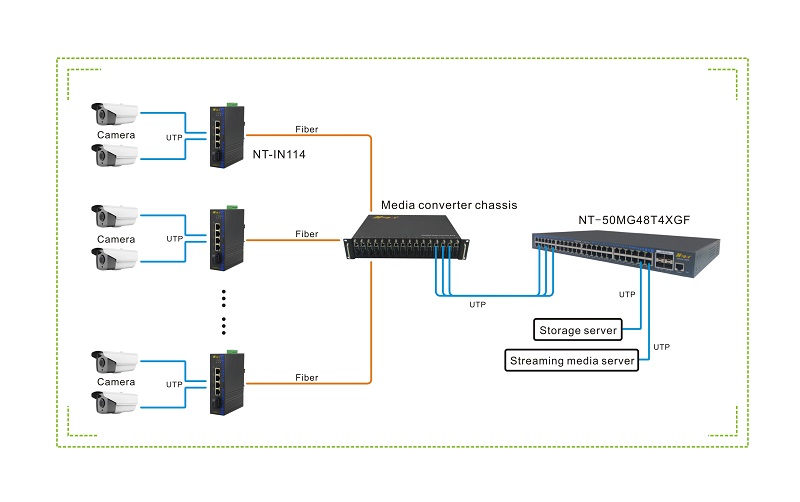 Product Categorie : Ethernet-switch > Managed Ethernet Switch