N-net 24-poort LCD beheerde switch met PoE
NT-35M24T4GCL Lcd zichtbaar poe schakelaar biedt 24 * 10 / 100Mbps RJ45-poorten die 802.3af / standaard ondersteunen met een totale PoE-voeding tot 440W, die krachtig en flexibel genoeg is voor gebruikers om draadloze toegangspunten of IP-gebaseerde netwerkbewakingscamera's in te zetten. De beheerde 24-poorts poe- switch is ook uitgerust met 4 gigabit SFP-slots en 4 gigabit- uplink Ethernet-poorten om uw netwerk flexibel uit te breiden. N-net LCD beheerde switch met poe geeft de real-time werkstatus van poe power well weer en deze slimme switch zal de onderhoudstijd en de arbeidskosten voor de beheerder aanzienlijk verkorten . Met al deze geavanceerde functies is de PoE-switch een ideale keuze voor netwerken voor kleine en middelgrote bedrijven.
Stapelbare beheerde Fast Ethernet POE Switch- functies
24x 10 / 100Mbps downlink PoE Ethernet-poorten, 4x 10/100 / 1000Mbps uplink Ethernet-poorten en 4x1000Mbps uplink SFP-poorten of 4x 1000M Gigabit Ethernet COMBO-poorten

IEEE 802.3, IEEE 802.3u, IEEE802.3ab, IEEE802.3x, IEEE802.3z, IEEE802.3af / bij standaard

Elk van de 24 poorten ondersteunen allemaal IEEE802.3af / at

10/100 Mbps automatische onderhandeling en automatische MDI / MDI-X, compatibel met verschillende Ethernet-apparaten

Ondersteuning van L2 + -schakelfuncties, waaronder 802.1Q VLAN, Port Mirroring, poortisolatie, IGMPS-koppeling,

DHCP-snooping, DHCP-relais, LACP, IP Source Guard, ARP-inspectie, ACL's enz.

Store-and-forward-mechanisme wordt gebruikt om pakketverlies en foutframes te voorkomen

Ondersteuning spanning tree STP (802.1D) en RSTP (802.1W) en MSTP (802.1S)

Ondersteuning voor IP / Port / Mac-binding.

Jumbo-frames ondersteunen maximaal 9.6K kilobtyes

Ondersteuning van verbeterd beheer via WEB, CLI, SSH, SNMP.

Verschillende functies van het LCD-display kunnen real-time de huidige werkomstandigheden van het apparaat weergeven en helpen om de installatie te vergemakkelijken en gemakkelijk problemen te verwijderen. (Keuze)

Maximaal vermogen per poort: 30W

Maximaal PoE-vermogen: 440 W (poort 1 tot poort 24)

Ingebouwde 1U-reeks van de rekvoeding, gemakkelijke installatie
N-net Power Over Ethernet Switch testen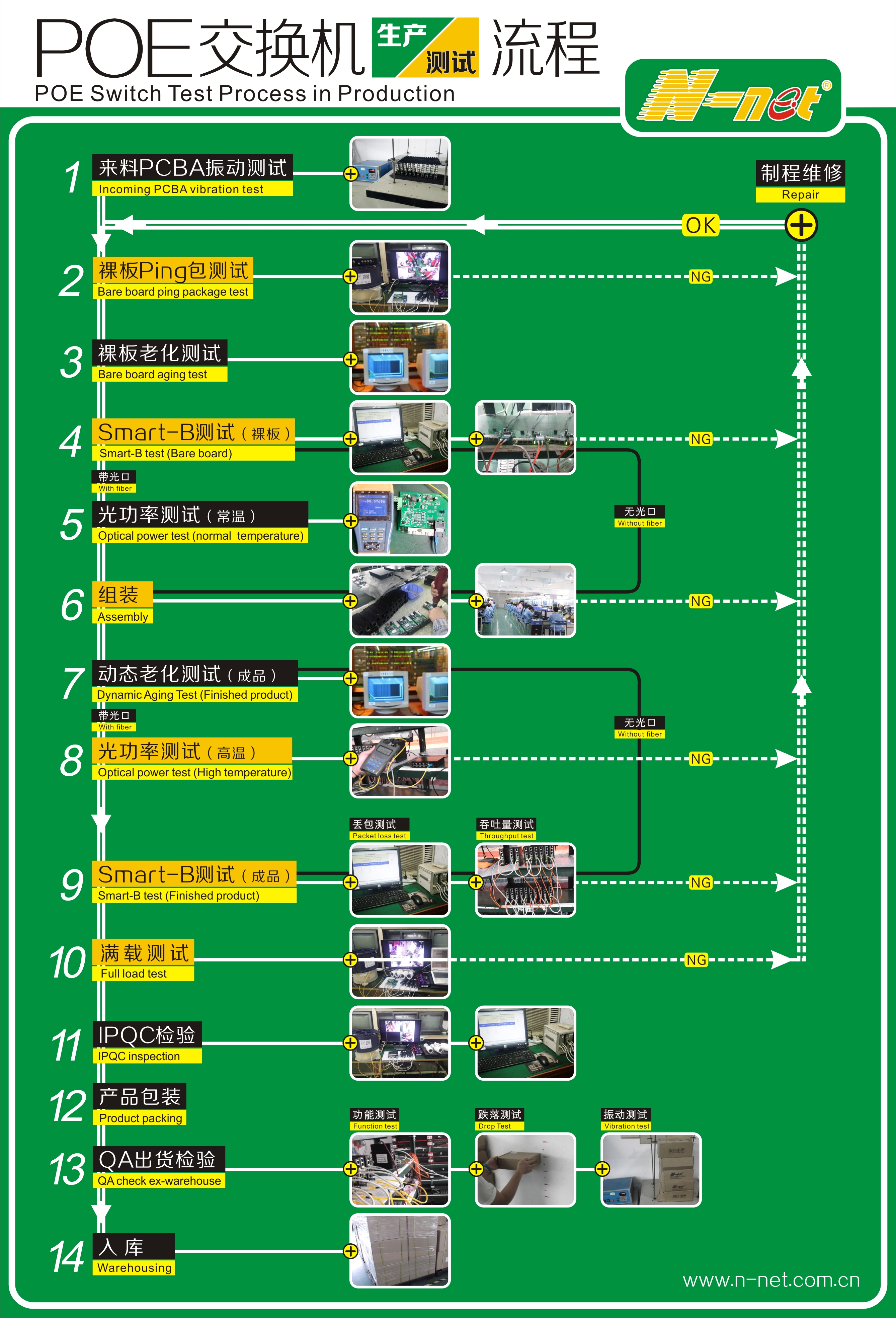 Poe Switch 24-poorten applicatie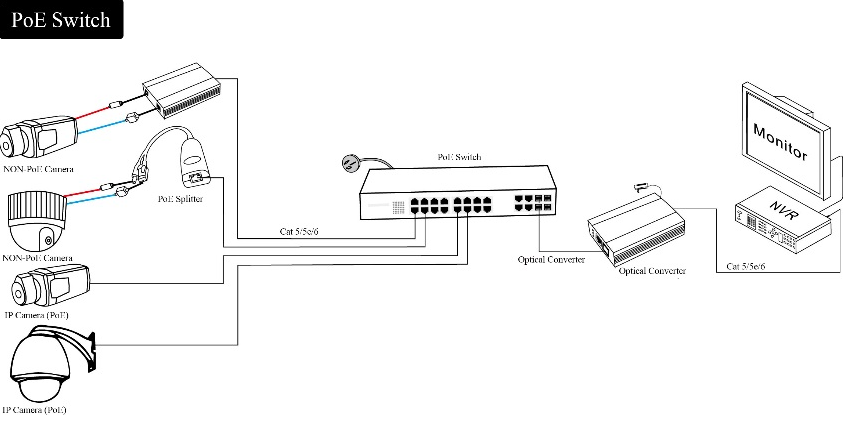 Poe Switch For Ip Camera Instructie:
1. Frontkaart heeft 32 poorten, biedt 24x 10 / 100Mbps downlink PoE Ethernet-poorten, 2x 10/100 / 1000Mbps uplink Ethernet-poorten of 2x 1000Mbps uplink SFP-poorten; of 4x 1000M Gigabit Ethernet COMBO-poorten
2. LED-indicatiestatus:
Vermogen: 1 groen lampje geeft aan dat het vermogen normaal werkt;
POE: 24 groene lampjes geven aan dat de POE aan staat (onder de RJ45-aansluiting);
Ethernet: 28 groene lampjes geven aan dat de Ethernet Link en Act
Ethernet: 28 groene lampjes geven aan dat de Ethernet-snelheid.
Installatie stap
Controleer hieronder het apparaat en de accessoires voordat u met de installatie begint, neem contact op met uw leverancier als er onderdelen ontbreken.
1. PoE Switch 1PCS
2. Gebruiksaanwijzing 1PCS
◆ Schakel de signaalbron en de stroomvoorziening van het apparaat uit voordat u het installeert, installatie met stroom aan kan het apparaat beschadigen;
◆ Gebruik 24 netwerkkabels om 24 IP-camera's aan te sluiten met de 1 ~ 24 PoE-poort van de Ethernet-switch;
◆ Gebruik een netwerkkabel om de UPLINK-poort van de Ethernet-switch op de NVR of een ander apparaat aan te sluiten;
◆ Verbind de Ethernet-schakelaar met de stroomadapter;
◆ Controleer of de installatie correct is en het apparaat goed is, zorg ervoor dat alle verbindingen betrouwbaar zijn en dat het systeem van stroom wordt voorzien;
◆ Zorg dat elk netwerkapparaat voeding heeft en normaal werkt.
Meer keuzes
| | |
| --- | --- |
| Model | Description |
| NT-35M24T4GCL-AF24 | Fast Ethernet PoE Switch,( 56625372,24) 10/100Mbps downlink PoE Ethernet Ports,( 56625373,4) 10/100/1000Mbps uplink Ethernet Ports, and (4) 1000Mbps uplink SFP Ports, POE output IEEE802.3af standard,420W |
| NT-35M24T4GCL-AT24 | Fast Ethernet PoE Switch,( 56625374,24) 10/100Mbps downlink PoE Ethernet Ports,( 56625375,4) 10/100/1000Mbps uplink Ethernet Ports, and (4) 1000Mbps uplink SFP Ports, POE output IEEE802.3at standard,600W |
N-net profiel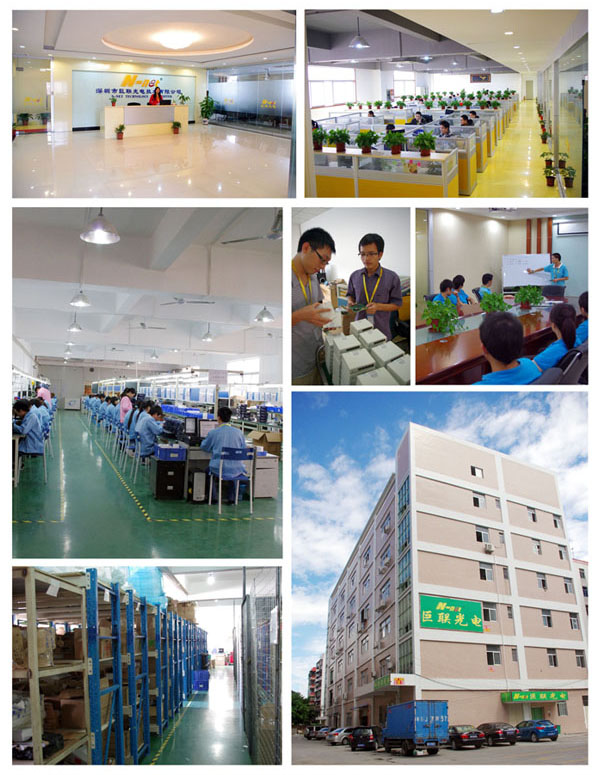 Product Categorie : POE Switch > Managed Fast Ethernet POE Switch