N-net 24-poorts beheerde PoE-gigabit-switch
NT-35MG22T2GC2GF-AF24 PoE-switch is een beheerde gigabit-switch met 22 * ​​1000M PoE-poort + 2 * 1000M Combo uplink-poorten + 2 * 1000M optische SFP-poorten, die zijn ontworpen om een wire-speed pakketoverdracht te bieden zonder risico op pakketverlies, en de MDI / MDI-X auto-detectie-functie van wordt geleverd voor directe draadverbinding met Ethernet-apparaten zoals switches, hubs of werkstations zonder dat er cross-overkabels nodig zijn. Met gehumaniseerd ontwerp, kunnen gebruikers gemakkelijk de status van de netwerkverbinding direct vertellen t hrough het voorpaneel LED-indicatoren. Kortom, N-net gigabit beheerde PoE-switch is een ideaal apparaat voor het overbruggen van Ethernet, Fast Ethernet-werkgroepen en netwerken. Het past op alle soorten Ethernet-installaties zoals campus-, werkgroep-, afdelings-, bedrijfs-, telecom- of industriële toepassingen.
Beheerde Gigabit Switch- functies
22x 10/100 / 1000Mbps downlink PoE Ethernet-poorten, 2x1000Mbps uplink combo-poorten
IEEE 802.3, IEEE 802.3u, IEEE802.3ab, IEEE802.3x, IEEE802.3z, IEEE802.3af / bij standaard
24 poorten ondersteunen allemaal IEEE802.3af / at
10/100/1000 Mbps automatische onderhandeling en automatische MDI / MDI-X, compatibel met verschillende Ethernet-apparaten
Ondersteuning van L2 + -schakelfuncties, waaronder 802.1Q VLAN, Port Mirroring, poortisolatie, IGMPS-koppeling,
DHCP-snooping, DHCP-relais, LACP, IP Source Guard, ARP-inspectie, ACL's enz.
Store-and-forward-mechanisme wordt gebruikt om pakketverlies en foutframes te voorkomen
Ondersteuning spanning tree STP (802.1D) en RSTP (802.1W) en MSTP (802.1S)
Ondersteuning voor IP / Port / Mac-binding.
Jumbo-frames ondersteunen maximaal 9.6K kilobtyes
Ondersteuning van verbeterd beheer via WEB, CLI, SSH, SNMP.
Verschillende functies van het LCD-display kunnen real-time de huidige werkomstandigheden van het apparaat weergeven en helpen om de installatie te vergemakkelijken en gemakkelijk problemen te verwijderen. (Keuze)
Maximaal vermogen per poort: 30W
Maximaal PoE-vermogen: 440 W (poort 1 tot poort 24)
L2 Managed POE Switch-toepassing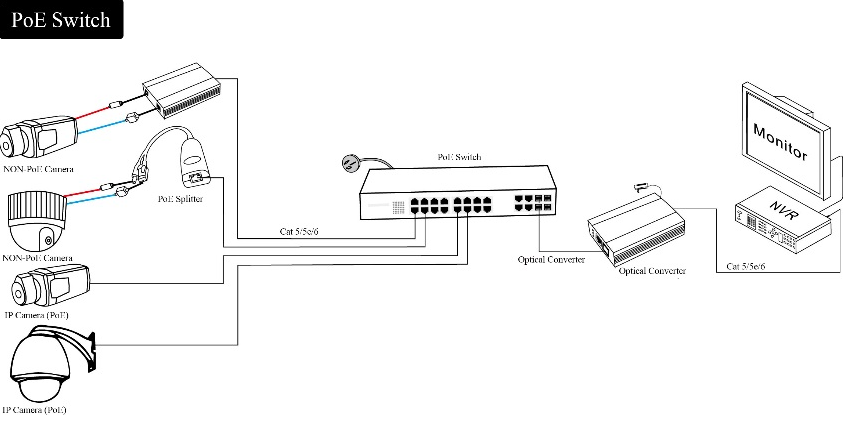 Managed 24 Ports Poe Switch Instructie:
1. Voorpaneel heeft 28 poorten, biedt 22x 10/100 / 1000Mbps downlink PoE Ethernet-poorten, 2x 1000Mbps uplink SFP-poorten; of 2x 1000M Gigabit Ethernet COMBO-poorten
2. LED-indicatiestatus:
Vermogen: 1 groen lampje geeft aan dat het vermogen normaal werkt;
POE: 24 groene lampjes geven aan dat de POE aan staat (onder de RJ45-aansluiting);
Ethernet: 28 groene lampjes geven aan dat de Ethernet Link en Act
Ethernet: 28 groene lampjes geven aan dat de Ethernet-snelheid.
Installatie stap
Controleer hieronder het apparaat en de accessoires voordat u met de installatie begint, neem contact op met uw leverancier als er onderdelen ontbreken.
1. PoE Switch 1PCS
2. Gebruiksaanwijzing 1PCS
◆ Schakel de signaalbron en de stroomvoorziening van het apparaat uit voordat u het installeert, installatie met stroom aan kan het apparaat beschadigen;
◆ Gebruik 24 netwerkkabels om 24 IP-camera's aan te sluiten met de 1 ~ 24 PoE-poort van de Ethernet-switch;
◆ Gebruik een netwerkkabel om de UPLINK-poort van de Ethernet-switch op de NVR of een ander apparaat aan te sluiten;
◆ Verbind de Ethernet-schakelaar met de stroomadapter;
◆ Controleer of de installatie correct is en het apparaat goed is, zorg ervoor dat alle verbindingen betrouwbaar zijn en dat het systeem van stroom wordt voorzien;
◆ Zorg dat elk netwerkapparaat voeding heeft en normaal werkt.
Product Categorie : POE Switch > Managed Gigabit Ethernet POE Switch