XFP naar SFP 10G 3R Repeater
Wanneer het zendontvangerkanaal van het apparaat werkt, worden de uitgevoerde parallelle gegevens in de FPGA-architectuur verzonden via de zender PCS en PMA, en uiteindelijk omgezet in seriële gegevens en verzonden.
De XFP tot SFP 10G 3R Repeater zijn 10G glasvezel tot 3R repeater en transponders. Gebaseerd op een aantal 10 Gigabit glasvezelstandaarden, ondersteunen deze transponders XFP naar XFP, SFP + naar XFP en SFP + naar SFP + glasvezelverbindingen. XFP naar SFP 10G 3R Repeater- transponders zijn protocoltransparant en bieden 3R (re-amplification, re-shaping en re-clocking) regeneratie tussen deze verschillende typen optische modules. Een van de belangrijkste toepassingen is het aansluiten van gepatenteerde transceiverapparatuur op CWDM of DWDM wanneer deze 'gekleurde' optische modules niet beschikbaar zijn voor de gepatenteerde apparatuur. Met full-duplex doorvoersnelheid voor draadsnelheid tussen de 2 glasvezelmedia, biedt de XFP naar SFP 10G 3R Repeater u de beste en eenvoudigste oplossing voor uw 10G-conversie tussen glasvezel en glasvezel.
10G 3R Repeater- functies
• Meerdere protocollen ondersteund 10G Ethernet, 10G FC, STM-64, OC-192
• Protocol transparante 3R glasvezeltransponder / repeater (re-amplification, re-shaping en re-clocking)
• Hot-pluggable SFP + of XFP-transceiver
• 10G-poorten die multiservice bieden; 10G transponder en regeneratorfunctie
• Biedt superieure optische mogelijkheden, wat resulteert in langere transportafstanden voor regionale toepassingen.
• Breid 10G Ethernet-transmissie uit via glasvezel
• Handig als 'transponder' in CWDM- of DWDM-systemen voor 10G Ethernet / Fibre Channel / STM-64
• Toepassing voor netwerkbackbones, zoals R & D-laboratorium, datacenter etc.
3R Repeater 10G- applicatie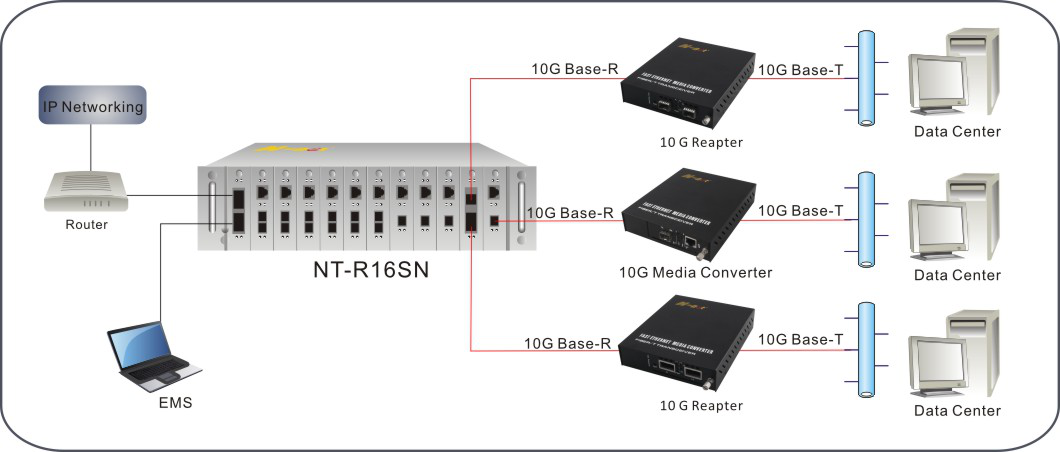 10Gigabit Internal Mode Converter Bestelinformatie
| | |
| --- | --- |
| Model | Description |
| NT-XG002 | 10G XFP to XFP, standalone |
| NT-XG002P | 10G XFP to XFP , rack-mountable (to NT-R16SN) |
| NT-XG020 | 10G SFP+ to SFP+ standalone |
| NT-XG020P | 10G SFP+ to SFP+ rack-mountable (to NT-R16SN) |
| NT-XG011 | 10G XFP to SFP+ standalone |
| NT-XG011P | 10G XFP to SFP+ rack-mountable (to NT-R16SN) |
Product Categorie : Media Converter > repeater